By: Smokin Jay on IG @fantasyfornicator of @BearsBrewsAndDaBros
What is good Rumboyz and girls!? We are breaking down the Bears draft here in this article, we will go pick by pick and give a final grade at the end. Yes, I am a Bears fan but if you guys have been following me and kept up with my past articles you will understand that I only give credit when credit is due, so with that being said, let's break this down!
First off shoutout to Ryan Pace for doing the right thing and trading up for a proven QB with a proven college resume, that's how you do it! Second off shoutout to Matt Nagy for being in his ear and ensuring the Bears traded up once Fields fell in the draft. Now, it's time to show and prove. Build that offense around this QB and let's see Nagy live up to the offensive guru hype us here in Chicago still haven't seen, lets go!!!!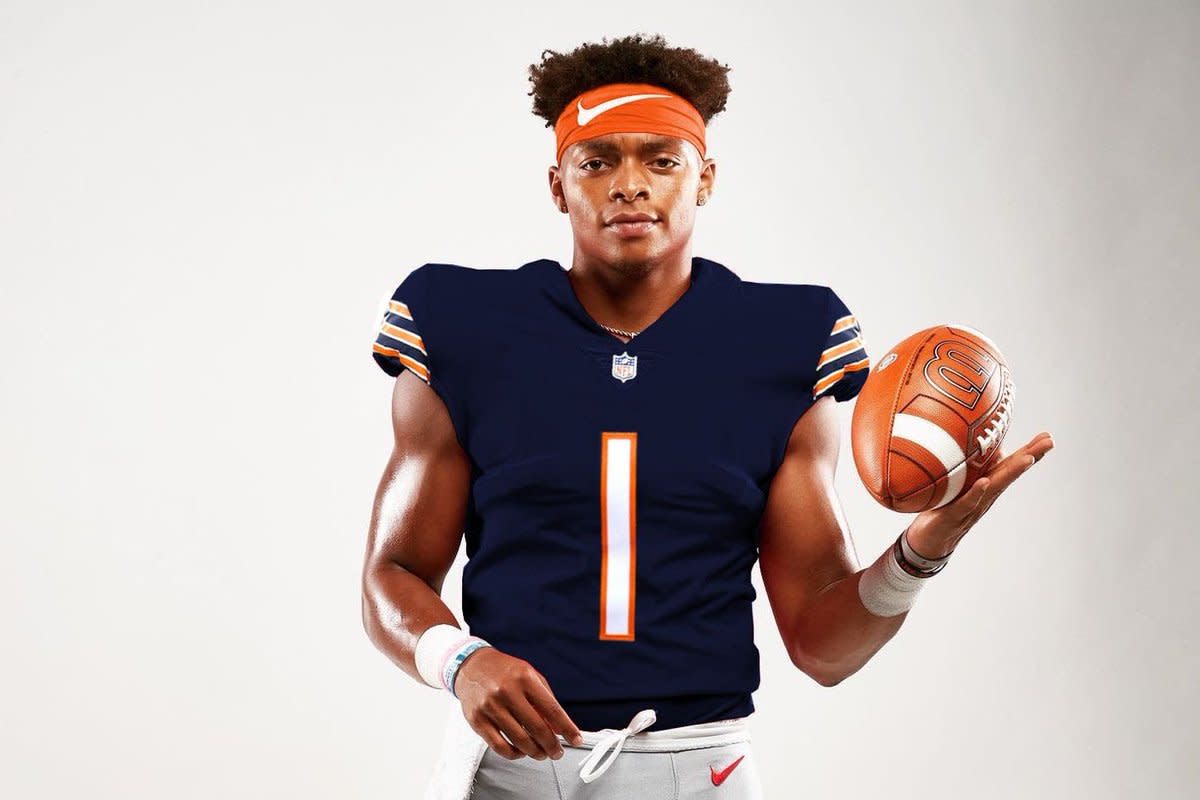 In the first round, the Bears moved up from pick 20 to pick 11 by trading the 20th pick, and 5th round pick this year and giving up next year's 1st and 4th round picks. Some people might think that was a lot, but to me, it wasn't. Not for a franchise QB, not for the hope he represents to this team and this city, we have never been this hyped about a QB we drafted, I don't care what anybody says about the backup QB in Buffalo, around these parts we call him a BUM for a reason, but let's get back on track. Justin Fields can do it all, precise throws, make the right reads in RPO situations, one of the best and most accurate 20 yards plus in this QB class. Very mobile but is a pass-first QB that will run to extend plays but won't need a playbook that only has him rolling out all game. Chicago this is our guy, be happy!
In the second round, the Bears once again traded up. This was only possible because Pace kept his picks in 2020 which in turn helped seal the deal in this trade. Bears sent their 2nd, 3rd, and 6th round picks in exchange for the Panthers' 2nd (39th overall) and 5th round picks. Bears selected OT Teven Jenkins who was mocked by several different sites and by Da Bros as well to go to the Bears in the first round if they wouldn't have traded up for Fields. 2 rounds through the draft and Chicago has 2 first-round picks, just well played by Pace, it's a beautiful thing to witness history as a Bears fan.
The next pick came in the 5th round where the bears got themselves another hog in OT Larry Borom from Missouri. 6'4 and 322 lbs and only gave up 1 sack in 2020. Other mocks had him going to the Bears in the 3rd round so the fact that they got him here was a steal already. He's been working hard and shedding some weight as he prepares for his full-time job in the pros, just don't lose too much weight, we need your strength in the trenches.
Bears trade back with Seattle and in the first of 3 6th round draft picks they get RB Khalil Herbert from VT who figures to be more of a special teams contributor as he has skills in the return game. The second 6th round pick was Dazz Newsome, WR from North Carolina. He also has some return skills and figures to give Anthony Miller a run at that slot position. He didn't have impressive numbers in his pro-day workouts, but his game film shows he's faster than what his workouts show. The last pick in the 6th round was CB Thomas Graham from Oregon. He sat out 2020 which played a part in why he fell in the draft, he has a nasty edge to him, think Jalen Ramsey smack talker, he's gonna fit in nicely in the Chi!
The last pick for the Bears came in the 7th, they selected Khyiris Tonga of BYU. He is a nose tackle and the Bears low key needed some more help on the d line. Just a big body, size, and strength with the raw talent, going to be fun to see him develop.
Final Grade
In all this draft is an A+ in my eyes. You get your franchise QB, you fortify that line, you walk away with 2 first-round picks and add depth at CB, DT, and WR. This is the start of Ryan's redemption, now it's Nagy's turn to take it from here! Until the next one, Bear Down!!!!