The 2021 NFL Draft is complete and the first wave of free agency has surpassed. The NFC East has been terrible the past few seasons, but things are looking up.
The much anticipated 2021 NFL Draft has concluded, as well as the first major wave of free agency. There might not be a division that became more competitive than the NFC East. In 2020 the Cowboys should have been the decisive favorite, though injuries and mismanagement forced them to falter, once again. The Washington Football Team was a pleasant surprise playoff team in 2020, but the pieces needed to continue to compete were very apparent. The Giants defense was elite, though the offense was injured and inefficient, yet they were able to remain competitive in most games. The Eagles…well they were the Eagles. They were full of disfunction with a lack of cohesiveness and direction. Let's break down how the Washington Football Team improved.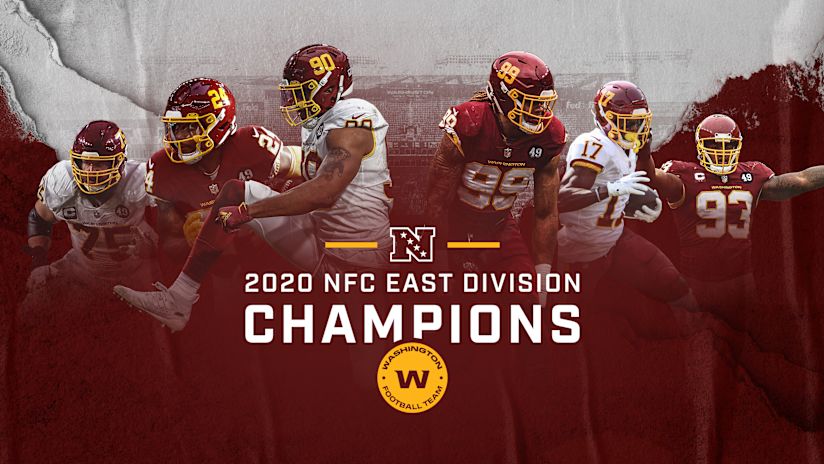 Key Additions To the Washington Football Team
Draft – Jamin Davis (LB), Samuel Cosmi (OT), Benjamin St-Juste (CB), Dyami Brown (WR), John Bates (TE), Darrick Forrest (S), Camaron Cheeseman (LS), William Bradley-King (DE), Shaka Toney (DE), and Dax Milne (WR)
Free Agency – Ryan Fitzpatrick (QB), Curtis Samuel (WR), William Jackson (CB), Adam Humphries (WR), and Tyler Larsen (C)
The Washington Football team is on the cusp of being a contender, unfortunately the NFC East is starting to look like a strong conference once again, that is outside of the Philadelphia Eagles. If you watched Washington at all last season, you could definitely see that this is a franchise on the rise. Coach Ron Rivera has done an excellent to create a completely different culture within the organization, one that seemed to scare away free agents as opposed to attract them. This is no longer the case and Ron Rivera should get all the credit in the world for creating a culture vastly different from the one that the Washington Football Team was labeled with.
How the Offense Improved
After last season the needed additions were very apparent, most noticeably at the quarterback position. The Football Team did not add a young signal caller in the 2021 draft as some speculated they may move up for. What they did do is add journeyman gun slinger Ryan Fitzpatrick.  Fitzpatrick is exactly the type of quarterback the Washington Football Team needs to help change the culture. He brings a level of grit, determination, and big play acumen that this team was missing. This play hear encapsulates everything that Fitzpatrick brings to the team:
Ryan Fitzpatrick will likely be the starter full-time in 2021 and will be a great mentor for the next quarterback that Washington decides to add to their stable. They land a high character guy that can elevate the offense.
The Washington Football Team added some much needed depth and competition to the offensive tackle position by drafting Samuel Cosmi who is an incredibly athletic and gifted at tackle. I had him with as a first round draft grade, yet he fell to them in the second round to their delight. At receiver, Terry McLaurin showed promise as a true number one receiver. He excelled on all levels, even facing the stiffest competition opposing teams could throw at him.  He showed fantastic hands, with an innate ability to make adjustments on the fly. Watch this catch that was a contender for catch of the year:
Unfortunately for McLaurin, the Washington Football Team had zero depth at receiver outside of him. This off-season they addressed this problem, and in a big way. They started off in free agency grabbing a familiar face to Coach Rivera by signing Curtis Samuel to a 3 year $34.5 million contract. Samuel was a gadget player for the Panthers and lined up both in the backfield and as a wide receiver. Now the Washington Football Team does not necessarily need running back help with both Antonio Gibson and J.D. McKissic on the roster, but Samuel adds another dynamic to the offense. Samuel can thrive on quick hitter throws and jet sweeps, any way where he can tack on yards after the catch. Watch here how he takes a quick wide receiver screen to the house:
The Washington Football Team then went and added some more receiver depth grabbing the shifty slot receiver Adam Humphries.  Humphries was a purely depth add at this point, and his contract shows it. His deal is only a one year deal for $1.19 million. Humphries provides good insurance if anything happens to Samuel.
They did not stop there though, it was time to attack the 2021 draft. The Washington Football Team already had all of their underneath targets with Logan Thomas, Terry McLaurin, and Curtis Samuel but lacked a true deep threat. They then added North Carolina product Dyami Brown who adds exactly that. Brown has excellent ball tracking skills matched with good hands and great straight line speed as you can see here:
Brown ran a 4.44 second 40 yard dash at his pro day and had a 1.56 second 10-yard split.  He is coming off of a AP All-ACC season as the only wide receiver in the conference to exceed 1,000 yards receiving. Plug these offensive additions to a team that already had a breakout tight end in Logan Thomas, an impressive do-it-all running back in Antonio Gibson, a talented WR1 in Terry McLaurin, as well as the 3rd best offensive line in the league, and The Washington Football Team has a legitimate shot at winning the division again.
How The Defense Improved
The defense of the Washington Football Team is very Dynamic, though needed some depth. They have one of the most disruptive defensive lines in all of football. On the interior they roster Jonathan Allen, Daron Payne, and Matt Ioannidis. All three wreak havoc on the interior. Then you add in the edge rush of both Montez Sweat and Chase Young and not only is this line stout, but also young. The linebacker group is what needed the most improvement with an aging Jon Bostic, a young yet inconsistent Cole Holcomb, and truly nobody outside of those two. The secondary is still strong boasting former all-pro Landon Collins and last year's rookie phenom Kamren Curl at the safety positions. They still host a solid cornerback group as well with Kendall Fuller and Jimmy Moreland, though they were not able to retain Ronald Darby. That is where the defense stood, but they got better.
Starting in free agency the Washington Football Team had a few holes to fill. They decided to start in the secondary where they lost Ronald Darby to free agency. William Jackson III sounded off about his displeasure with the Bengals organization and was readily available. The Washington Football Team decided to give him a lucrative 3 year and $42 million contract. Jackson III said it was a no-brainer to play for Coach Rivera, stating that every cornerback who plays in his system thrives. Jackson has allowed a catch on just under 40% of his targets, a stat in which he ranks in the top three in the NFL since 2017. He has great ball skills, size and excellent speed. He makes great breaks on the football as well, watch how he jumps the route here and makes the pick six:
This addition with Fuller and Moreland makes for an aggressive cornerback trio. After the free agency signing of Jackson III, it was time for the Washington Football Team to grab some value in the 2021 draft. They did so and started early at pick #19 in the 1st round. Where some thought the team may trade up for a signal caller, instead they drafted a linebacker to help bolster the middle of their defense while also getting younger.
They drafted Jamin Davis out of Kentucky who had amazing final year of collegiate football. Davis Posted 102 total tackles, 4 tackles for a loss, 1.5 sacks, 2 passes defended, 3 interceptions and a touchdown. Davis also showed out at his pro day where he posted a 4.48 second 40 yard dash, had a 42 inch vertical, and an 11 foot broad jump. Davis showed great promise in coverageas well, watch here how he is able to recover and stay with fellow rookie Kyle Pitts :
Defensive Coordinator Jack Del Rio said he loves Davis' versatility and his ability to play all three linebacker spots. He also went on to say that he will likely play outside, most likely at the WILL spot.
The other two draft picks that are intriguing to me for this defense are a pair of 7th round edge rushers. As I mentioned above, the Washington Football Team has one of the best, if not the best, edge rushing duo in the entire NFL. The one problem is that outside of those two, the team is incredibly thin at the edge position. As great as Sweat and Young are, they will need to be spelled from time to time to be most effective. With the 240th pick in the 7th round, the Washington Football Team added William Bradley-King out of Baylor. Though Bradley-King has some limitations athletically, he makes up for it in technique and motor.
Then five picks later they drafted talented edge rusher out of Penn State, Shaka Toney. Toney has been overlooked for his entire collegiate career and was yet again in the 2021 NFL Draft. Toney was paired in college with some very talented edge rushers in Yetur Gross-Matos and Odafe (Jayson) Oweh. Gross-Matos was a 2nd round pick by the Panthers in 2020 and Oweh was a 1st round pick by the Ravens in 2021. The crazy part is, Toney outproduced both of these players while playing next to them in college, but ended up being a 7th round selection. Toney is slightly undersized at 6'2″ and 245 lbs, but strength should not be an issue. Toney actually showed the physical strength to match Oweh, and even better. Toney had 24 repetitions of 225 lbs at his pro day on the bench press while Oweh had 21. Toney has great technique and has great bend off of the edge, watch here how quickly he gets to the quarterback:
Toney has been overlooked his entire career but has what it takes to be productive. He likely will not get an abundance of reps in Washington, though you know he will always give 110%. Bradley-King and Toney will provide a pass rush with the incumbent starters that will always be fresh, and always causing issues for the opposing team's quarterback.
Skill Position Final Depth Chart Projection
Offense
QB: 1st Team – Ryan Fitzpatrick    2nd Team – Taylor Heinicke    3rd Team – Kyle Allen
RB: 1st Team – Antonio Gibson    2nd Team – J.D. Mckissic    3rd Team – Lamar Miller/Peyton Barber
WR: 1st Team – WR1 (outside) Terry McLaurin    WR2 (outside) Dyami Brown    Slot Curtis Samuel
 2nd Team – WR1 (outside) Kelvin Harmon    WR2 (outside) Cam Sims    Slot Adam Humphries
 3rd Team – WR1 (outside) Antonio Gandy-Golden    WR2 (outisde) Isaiah Wright    Slot Steven Sims Jr.
TE: 1st Team – Logan Thomas    2nd Team – John Bates    3rd Team – Temarrick Hemingway
Defense
Defensive Line: 1st Team – DE Montez Sweat  DT  Daron Payne DT Jonathan Allen DE Chase Young
2nd Team – DE Shaka Toney  DT Tim Settle  DT Matt Ioannidis  DE William Bradley-King
Linebacker:      1st Team – SAM Cole Holcomb  MIKE Jon Bostic  WILL Jamin Davis
2nd Team – SAM Casey Toohill  MIKE David Mayo  WILL Khaleke Hudson
Cornerback:    1st Team – Outside CB William Jackson III  Oustide CB Kendall Fuller  Slot CB Jimmy Moreland
2nd Team – Outside CB Danny Johnson  Outside CB Benjamin St-Juste  Slot CB Greg Stroman
Safety: 1st Team – SS Landon Collins  FS Kamren Curl
2nd Team – SS Deshazor Everett  FS Troy Apke
3rd Team – SS Jeremy Reaves  FS Darrick Forrest
Summary
The Washington Football team overachieved in 2020 easily and ended up winning the division. Even so, there were still glaring holes that need to be filled, most notably with quarterback and wide receiver on offense. The team did a great job during free agency and the draft that should make this offense an incredibly fun one to watch. On defense it was about getting a high quality, young linebacker, a replacement outside cornerback, and much needed depth. The Washington Football checked off all of these boxes.
As a team, the Washington Football Team may be the most complete in the NFC East. There is a good chance that they repeat as division champions. With the increased talent level in the division recently, the NFC East is now up for grabs and a division not to be taken lightly.
Make sure you follow me on Twitter @JoeyTheToothIDP. You can find all of my articles here with the Rumboyz Network  and with IDPGUYS.