Rajveer Ashat (Twitter//@RajveerAshat, Instagram//@Raj__Ashat)


Going into the 2021 NFL Draft, the Pittsburgh Steelers had a multitude of needs to address. Unlike in 2020, in which the Steelers had no first-round pick, they had a full allotment of 8 picks throughout the draft. The most notable positional needs for the Steelers included; Running Back, Center, and Offensive Tackle, along with depth in the front 7 and secondary.
Round 1, No. 24 overall: Najee Harris, RB, Alabama:
Plain and simple, the Steelers got their guy. They made a bit of a bold statement, making Harris the first RB off the board at 24, but any Steelers fan who had been paying attention during the pre-draft process was not surprised by the selection. Kevin Colbert and Mike Tomlin never tried to conceal their admiration for the bruising young back and seemingly chose him without contemplating about any other prospects. Now this may seem questionable to some but doesn't seem to faze the GM and HC duo.  
With a well-rounded output in 2020, Harris improved his game and draft stock. Along with his signature physicality, Harris demonstrated enhanced short-area flexibility and elusiveness. With Harris' skill set on the roster, the Steelers' awful 2020 running game gets a boost right away, which in terms of yards per game and yards per attempt, was dead last. 
Off the field, Harris is touted, by all accounts, as someone of great character. This was especially highlighted when his flight to Alabama's first Pro Day was cancelled. Instead of letting the day pass, he drove overnight to make it to the event, simply to support his teammates.
Like I said, the Steelers got their guy, and I can bet they're happy with it. Najee Harris is the prototypical, hard-nosed running back that those in and out of the Steelers organization love, and he's going to be something special.
Grade: A-
Now, this pick would normally be a B+, however gets a boost due to 2 factors. Najee Harris is THE perfect fit for the Steelers, and despite the first round being objectively early for a running back, the other two prospects within the consensus top-3 (Travis Etienne & Javonte Williams), were taken very quickly after Harris.
Round 2, No. 55 overall: Pat Freiermuth, TE, Penn State
This pick was a bit interesting. Where many analysts and fans were expecting the Steelers to take an offensive lineman, Kevin Colbert flipped the script and opted for Penn State's "Baby Gronk," otherwise known as Pat Friermuth. Following Eric Ebron's abysmal end to last season, tight end was a fairly large need for the team.
Following Vance McDonald's retirement, the Steelers needed a "do-it-all" tight end opposite of Eric Ebron's occasional splash plays. Friermuth brings exactly that and more. He is the quintessential big, athletic tight end with the potential to be a combo player at the position, helping as a both run blocker and pass catcher. He especially shines with his foot quickness, agility, ability to attack the second level of the defense, and probably most enticing of all, his sure-fire hands in traffic and in the redzone. Over his 3 years at Penn State, Friermuth drop 0 (yeah, you read that right, 0.) of his redzone targets, giving Steelers' fans nostalgic memories of Heath Miller and his many touchdowns wearing the black and gold.
Now the only thing left to figure out is, "What do we yell when he scores?" My personal favorites are "PATTTTTTT," or even "MUTHHHH," but it'll ultimately be up to Steeler Nation.
Grade: B+
As a diehard Steelers fan, I LOVE Pat Friermuth and I LOVE the way he fits into our offense. Despite that however, there was lots of tight end depth, notably Hunter Long and Tommy Tremble, in this year's class, and the second round would've been a great spot to address some O-Line issues, with players like Creed Humphrey and Brady Christensen still on the board.
Round 3, No. 87 overall: Kendrick Green, G, Illinois
The Steelers finally addressed what many thought to be their most pressing need coming into the draft, the offensive line. Kendrick Green out of Illinois, a versatile lineman with experience at both guard and center is a sneaky good pick in the draft, and someone Mike Tomlin was watching closely during the pre-draft process, ranking Green as one of the team's top targeted interior lineman.
Green is a durable, and steady, player, proven by his career as a three-year collegiate starter. He has great initial speed which makes him a natural fit for zone-heavy run schemes, just like the Steelers. Despite being a pretty average pass blocker, lacking in drive power in one-on-one situations, Green especially excels as a run blocker, being able to wash defenders completely out of play while blocking on the move.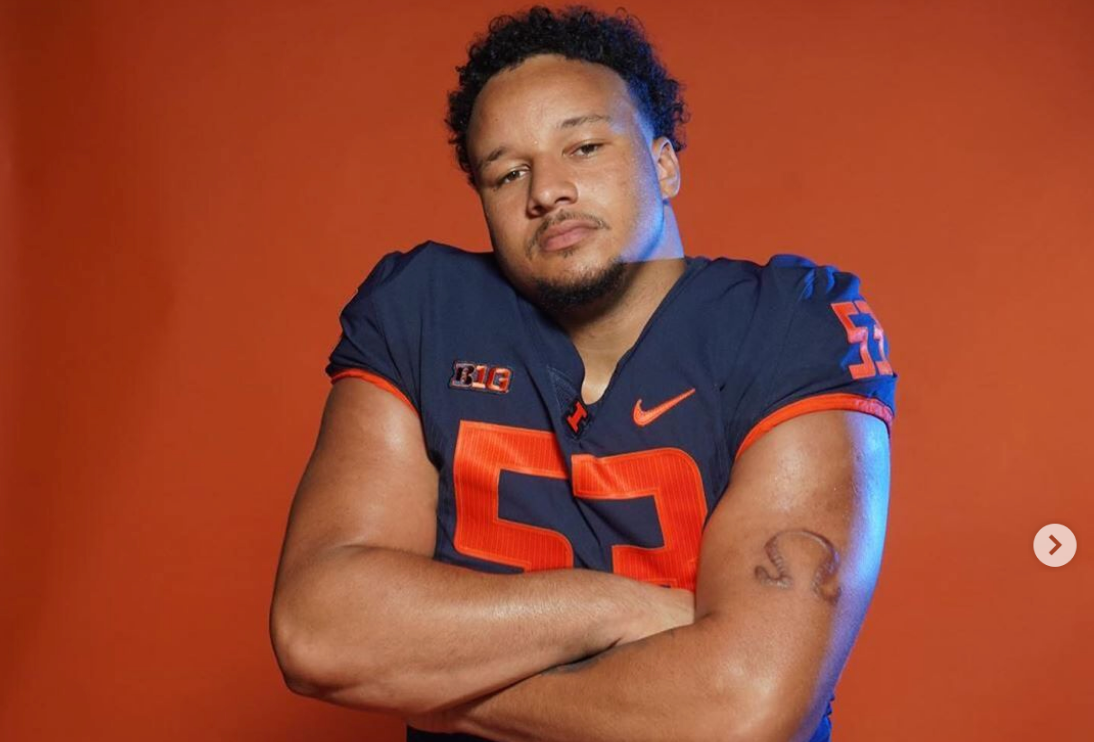 Kendrick Green can be the perfect plug-and-play guy the Steelers desperately need for their offensive line coming into the 2021 season. With his positional flexibility and athleticism, the Steelers can bring a different approach to how they use him.  
Grade: A
With the highest grade so far, the Steelers simply picked a beast. His sly athleticism and great power bring something the Steelers were definitely lacking last season, and he can easily become one of the better young lineman in the league going forward.
Round 4, No. 128 overall: Dan Moore, OT, Texas A&M
With their first of two picks in the 4th round, the Steelers opted on going back-to-back with offensive lineman, taking Aggies offensive tackle Dan Moore to help deal with their blocking struggles.
Moore is another three-year collegiate starter, blocking against some of the most challenging SEC pass rushers. He held his own as a starter and was even a finalist for the Joe Moore Award (nation's best OL). He possesses the typical frame that people love from an exterior lineman, coming in at 6'6' and 311 pounds. Just like Kendrick Green, Moore excels in a zone-blocking scheme, as he played in a similar system in college. This means he can fit nicely with what the Steelers want, assuming he can keep up physically.
Moore is definitely a project player and is seemingly coming in as depth behind Zach Banner and Chukwuma Okarafor. Depending on how he develops, he could be the starter for Pittsburgh in the future.
Grade: B-
Personally, I don't know how to feel about this pick. The Steelers addressed a need and got a guy that fits into their playstyle nicely. But, there was objectively better players at the same position still on the board, including Larry Borom and Brendan Jaimes.
Round 4, No. 140 overall: Buddy Johnson, LB, Texas A&M
After addressing offensive needs with their first 4 picks, the Steelers finally shifted to defense with their second pick in the 4th round, selecting Buddy Johnson, another Texas A&M product. Following Devin Bush's season-ending ACL tear during week 4 of the 2020 season, inside linebacker was a decent need for the team.
Johnson is your typical blue-collar interior linebacker, with good size, sideline to sideline speed, and great leadership qualities. He excels at recognizing blocking schemes and pursuit leverage but doesn't seem to take the best pursuit angles, and struggles overall in pass coverage. To combat this, however, he brings great strength off the block, and the uncanny ability to play off and find a way to the ballcarrier.
Johnson may see quite a bit of play time in comparison to the other 4th round picks alongside him, due to Devin Bush's aforementioned ACL tear and Vince Williams declining play.
Grade: C+
Again, this is a pick I'm not too sure how to feel about especially when there was a MUCH better prospect still on the board. Now, this might be the biased Michigan fan in me talking, but Cameron McGrone, who went 177th overall to the Patriots, would have been a way better pick here. He brings a similar skillset, along with better pass coverage. Along with that, he brings in an existing relationship, as he learned under Devin Bush during his freshman year.
Round 5, No. 156 overall: Isaiahh Loudermilk, DE, Wisconsin
This is a guy the Steelers must be high on, as they traded a future fourth-rounder to Miami in order to get him in the fifth round, Isaiahh Loudermilk (great name by the way), out of Wisconsin.
He's an aggressive two-gap defensive end with great potential. Super explosive off the snap, and great with his hands, but seems to struggle with positioning and gets caught up in one-on-one situations. Coming in at 6'8", 293 pounds, he has great size, but doesn't seem to use it on the field, as he consistently gets outmuscled by offensive lineman. He can fit in well as a depth 3-4 end in the Steelers front-7, but won't get much playtime outside of situational packages.
As mentioned previously, he has great growth potential. If he can learn behind both Cameron Heyward and Stephon Tuitt, two premier defensive lineman, he can become a pretty impactful player.
Grade: C-
Being brutally honest, I don't like this pick. The main reason being the value the Steelers are getting. First, they traded up to get him, which in my eyes, doesn't make much sense. Loudermilk was seen at the earliest, as a sixth-round talent, and considered by many to be a UDFA-level guy. Even if the Steelers were high on him, they could have easily drafted him with a later pick, rather than giving up future assets.
Round 6, No. 216 overall: Quincy Roche, OLB, Miami
The Steelers went defense again in the 6th, taking Miami edge Quincy Roche, someone who was touted as a mid-round pick, but slipped down boards.
Over the past four years, Roche, plain and simple, was a stat stuffer. Despite being outshined by his teammate, first-round pick Jaelen Philips, he still put up numbers. He's super reliable and productive, attacks the pocket with a sort of controlled aggressiveness, and has a deadly rip-and-run in his arsenal that allows him to open up the corner. Some of his weaknesses include being fairly wiry throughout his lower body, as well as having tight hips and ankles which takes away that top-end speed off the snap that many teams desire.
Roche is another guy the Steelers drafted with depth in mind, with DPOY runner-up T.J. Watt and rookie standout Alex Highsmith as the starters coming off the edge. He will definitely see some usage in rush packages and on special teams and is another guy that could be great if he can learn under someone like Watt.
Grade A+
Love. It. Absolutely amazing pick by the Steelers here. In my eyes, this is a guy who could have very easily gone in the 4

th

. Keeping it short and sweet, he's gonna be a beast.
Round 7, No. 245 overall: Tre Norwood, S, Oklahoma
The Steelers continue to pick defense, as they go with Tre Norwood, cornerback-converted-safety out of Oklahoma. After releasing Steven Nelson and losing Mike Hilton in free agency, the Steelers badly needed coverage help in the secondary.
Norwood is another prospect taken with versatility in mind, as he has the size, smarts, and coverage skills to play at cornerback or safety. He struggles with his speed a bit, as he tends to lack the recovery speed needed to play man-to-man coverage. With an expanded role, however, he can make up for his weaknesses.
Once again, this was a pick that needed to be made. Depth in the secondary was severely lacking coming into the draft, and with Norwood's versatility, the Steelers made a good move.
Grade: B-
Even though, this is a generally good pick, it gets knocked down a bit because of the talent, more particularly Ar'Darius Washington, on the board. At the end of the day, these late 7th rounders are going to be depth guys, I can't knock a team too much for grabbing one guy over another.
Round 7, No. 254 overall: Pressley Harvin III, P, Georgia Tech
To end off the draft, the Steelers took the viral, touchdown throwing, 260-pound punter out of Goergia Tech, Pressley Harvin III.
After struggling with their "on the roster-off the roster" veteran punter Jordan Berry last season, punter was one of those positions that, despite not being flashy, can be huge towards a team success, and was a need for the Steelers. Harvin won the Ray Guy Award (best P in the nation) last year for his efforts on special teams. He has a cannon for a leg, and consistently punts inside the 20.
If he can show out during UTA's and make the 53-man roster, Harvin could be the Steelers premier special teamer in the foreseeable future.
Grade: C
Despite being touted by many as the best punter in the draft, punter isn't necessarily a position you need to draft, which is why I can only give this pick a lower grade. There isn't much value at the end of the draft anyways, but this is still a guy the Steelers could have gotten as a UDFA.
Overall Draft Grade: B/B+
The Steelers had a top-heavy draft, getting most of their best picks in rounds 1-3. It did ween off a bit towards the middle, but they still got some great value in the later rounds.
UDFA Signings:
Shakur Brown, CB, Michigan State
Jamar Watson, LB, Kentucky
Lamont Wade, S, Penn State
Calvin Bundage, LB, Oklahoma State
Mark Gilbert, CB, Duke
Rico Bussey Jr., WR, Hawaii
Isaiah McKoy, WR, Kent State
Donovan Stiner, S, Florida