Chargers NFL Draft Review
Round 1 pick 13 Rashawn Slater: A+
The Chargers had the 13th pick in the NFL draft and got a steal in my opinion in offensive lineman Rashawn Slater from Northwestern. I really thought that the Chargers would've had to move up to get him but once Cincinnati took Jamar chase and Miami took Jaylen Waddle it made the decision to stay at 13 a little bit easier. Rashawn slaters height and weight is 6 foot 4 and 310 pounds so he is a strong contender to get a starting role at some point this season based on sheer size. I am a really big fan of Slater here since he was the second best lineman on the board and Justin Herbert needs the protection. Slater started 11 games and didn't give up a sack in his junior season. He is the also the son of Reggie Slater who had a few stints in the NBA.
Round 2 pick 47 Asante Samuel: A
The Chargers second round pick was at 47 and they got another steal in my opinion in Cornerback Asante Samuel Junior from Florida State. Asante Jr is the son of Asante Samuel, obviously, who was a cornerback in the NFL for the Philadelphia Eagles, Atlanta Falcons, and was drafted by the New England Patriots. Asante Samuel's height and weight are 5 feet 10 inches and 183 pounds. In 3 seasons at Florida State he had 71 tackles and 4 interceptions. In all honesty I'm shocked that Asante Samuel was there for the Chargers as I thought he would go in the top 10 of the second round. Asante Samuel Junior to me is one of the bigger steals of the draft. The Chargers needed a corner and got one of the better players available. If Asante Samuel Junior can play up to the potential of the pick I think he can be a star for the Chargers.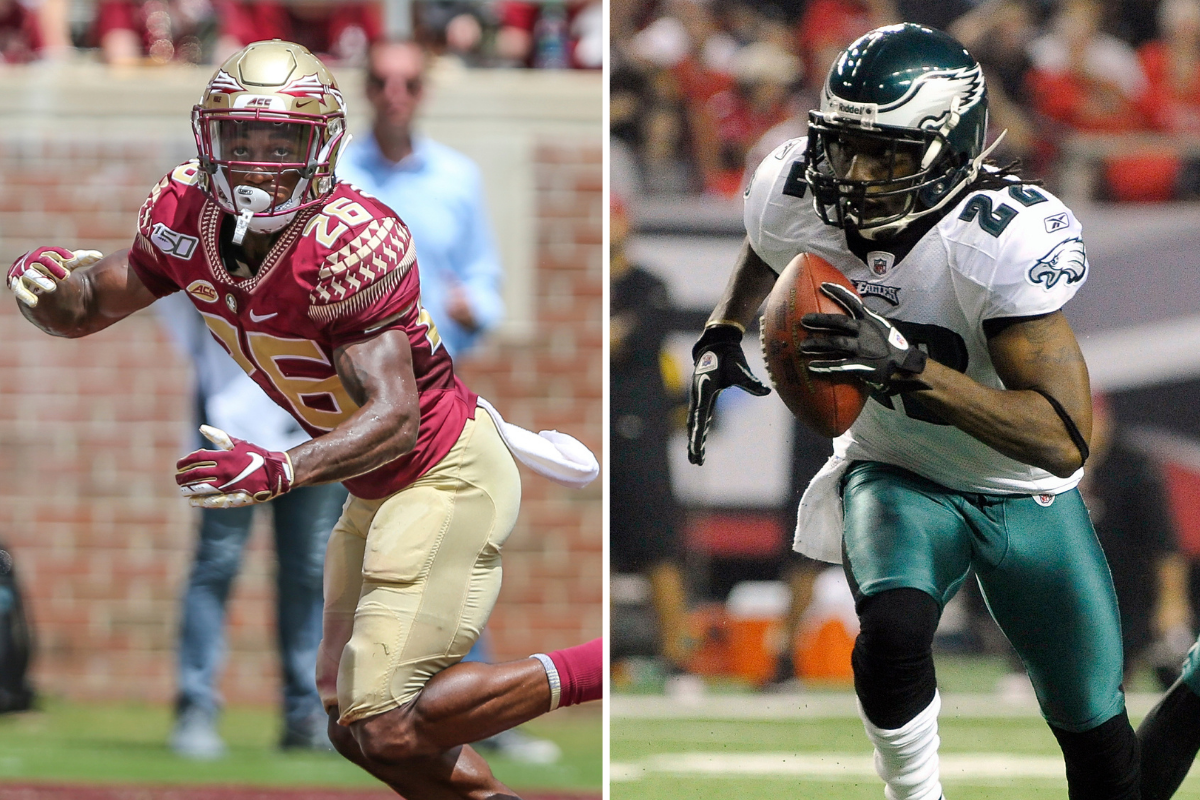 Round 3 pick 77 Josh Palmer: C
The Chargers had 2 picks in the 3rd round. With the first pick they selected Josh Palmer wide receiver from Tennessee. Josh Palmer is a Canadian football player that had to adjust to American football in college. I like Josh Palmer, I just really think that they could've drafted him with their other pick in the 3rd round. Palmer's height and weight are 6 foot 2 inches and 209 pounds. At Tennessee he had 99 receptions and had 7 touchdowns. I don't know if he can start but he can definitely be a fill in if somebody happens to get hurt.
Round 3 pick 97 Tre' McKitty: B
With the Chargers second pick of the 3rd round they selected Tre McKitty tight end from Georgia. Tre Mckitty's height and weight is 6 foot 5 inches and 245 pounds. The reason I gave Tre' Mckitty a C is because I thought LAC might have been able to draft him some point on the final day. In his career at Georgia Mckitty had 56 catches for 6 touchdowns. I think the reason for his production is because he went to a top school in Georgia, but if he went to a less competitive school he would have gotten more attention. Again it's not that I dislike Tre' Mckitty it's just I wish the Chargers got him in a later round.

Round 4 pick 118 Chris Rumph. B+
In the 4th round the Chargers selected Chris Rumph, a defensive end from Duke. Chris Rumph's height and weight is he is 6 feet 3 inches and weighs 236 pounds.
I like this pick because you can never have enough defensive players, especially when you have to play Patrick Mahomes at least twice a year. In his career at Duke Rumph had 124 tackles, 57 of them were solo tackles. I really think he can shine for the Chargers but it might just take a little time. 
Round 5 pick 159  Brendan Jaimes: B
In round 5 the Chargers selected Brendan Jaimes offensive tackle from Nebraska. 
Brendan Jaimes height and weight is he is 6 feet 6 inches and weighs 300 pounds.
Jaimes set a record at Nebraska by starting for 40 consecutive games, so to me that means two things: one he's pretty healthy and two, he's good enough to start in a conference like the Big 10. The Chargers already signed Rashawn Slater in round one but to me it's never a bad idea to draft a lineman. To me Brendan is a player that LAC can put in as a back up or perhaps he can work his way into a rotation if when necessary.
Round 6 pick 185 Nick Niemann: B-
The Chargers had two 6th round picks and with the first they drafted Nick Niemann linebacker from Iowa. Niemann's height and weight are 6 feet 4 inches and he weighs 234 pounds. In his 4 seasons at Iowa Niemann had 155 tackles with 72 of them being solo tackles. I think in a few years Nick can find his way to a starting position but with most rookies it will take some time.
Round 6 pick 198 larry Rountree: C
With the Chargers second pick in the 6th round they selected Larry Rountree running back from Missouri. The height and weight of Larry Rountree is 5 feet ten inches and 209 pounds. In his career at Missouri Rountree had 746 carries and had 40 touchdowns. I think that Larry Rountree is gonna spend a lot of time in the backfield but he's gonna have to wait a year or two with how versatile Austin Ekeler is. 
Round 7 pick 241 Mark Webb: C
With the Chargers final pick of the draft they selected Mark Webb safety from Georgia. The height and weight of Webb is 6 feet 2 inches and 190 pounds. To me he is more of a special teams player than a safety. In his four seasons at Georgia he had 74 tackles 43 of them were solo tackles. This was an interesting draft for the Chargers, I like the picks they made but I still want to see the team on the field before final judgement.
After the draft the chargers signed ten undrafted  free agents:
1 Ben DeLuca Defensive Back from Charlotte 
2 Jared Goldwire Defensive Lineman from Louisville 
3 Darius Harper tackle from Cincinnati 
4 Hunter Kampmeyer Tight End from Oregon 
5 Alex Kessman Kicker from Pittsburgh 
6 Ryan Lagan Long Snapper Georgia southern 
7 Forrest Merrill Defensive Line from Arkansas state
8 Amen Ogbongbemiga Linebacker from Oklahoma State
9 Kyle Spalding Tackle San Diego State
10 Elijah Stove Wide Receiver Auburn
Shawn Mierczynski