Every mid-season the trade deadline sends ripples throughout the NHL leading up to the playoffs. The teams who are struggling to sell players or trade expiring contracts are hoping for value in return. The buyers are getting rental roster players for their Stanley Cup run.
David Savard Trade
The Tampa Bay Lightning made serious trades offering their picks up just like last year, acquiring Barclay Goodrow and Blake Coleman. Both were crucial parts in the Stanley Cup run playing the shutdown third-line role. Giving up 1st round picks are steep pieces; nevertheless, it for valuable players in deep playoffs runs. David Savard coming from the John Tortorella system is a defensive focus defenseman. Standing 6'2 and 229 pounds provides physicality on the blueline the Lightning saw that firsthand going against in the 2018/2019 series. Another specialty of his is blocking shots and he's one of the best at doing the job. He strengthens their right shot lineup. He may not be the best offensive creator as Tampa Bay already has enough defensemen doing that.
The core now looks stacked with Norris candidate Victor Hedman, Mikhail Sergachev, Ryan McDonough, Erick Cernak, Luke Schenn, and Cal Foote. Brian Lashoff who is 30 and currently in the minor league won't do anything. Julien Brisebois took advantage of Steven Stamkos' injury going to LTIR to save cap space. Tampa pays the pending UFA $1.062 million just in case Stammer returns. To make this happen third-team wheel team was involved. The Detroit Red Wings ate 50%, receiving a 4th round pick in return. Columbus gets 2021 1st and 3rd good value retaining a 50% cap hit.
Nick Foligno Trade
Jarmo Kekäläinen stacked up on picks getting Toronto's 2021 1st round and 2022 4th round selections. Kyle Dubas is an analytical general manager. He took a different route going after the intangible. Yes, this was an overpay. The first-round pick has a premium price to pay, in Dubas's point of view, he is going all out for the push. Nick Foligno brings tons of experience and leadership as the Blue Jacket's former captain. He's a locker-room person, the Leafs this season empathizes on veteran experience players like Wayne Simmonds, Joe Thorton, Jason Spezza, and Zach Bogosian. Defensively he is a beast shutdown player, a bridge between top-9 forward/3rd liner. He boosters the lineup with his grittiness provides supported physicality and he does throw the hands down.
Foligno adds play driving skillset, he kills plays the penalty kill and has the toughness to do it well. Coming into the trade deadline a hole was at the left-wing, but with the emergence of Alex Galchenyuk it makes no need for a big name. To retain salary the San Jose Sharks were involved taking 50% with CBJ in return, the Sharks receive a 4th round pick. The result means $1.375 million is the charge paid from Riley Nash and Frederik Andersen's LTIR. Worst case scenario is if Toronto bounced out in the first round, Foligno resigns to Columbus in the offseason. Stefan Noesen won't do anything for depth. 
Taylor Hall Trade
The Boston Bruins were going after a top-six forward. The answer is Taylor Hall. A team that was hanging on a playoffs spot went on the buyers market. This roster didn't have the best forward depth after the front three Brad Marchand, Patrice Bergeron, and David Pastrnak.
The first thought of Taylor Hall of signing to Buffalo was to increase his market value sign elsewhere in free agency or dealt at the deadline. The Sabres are in a messed management were forced to take any offers. Kevyn Adams was desperate at finding trade partners. Not sure why would he make a deal at midnight when others teams were giving out better return. Taylor Hall wanted to go to Boston from the start, the money didn't come to terms, it's poor asset management what Kevyn Adams did.
The Bruins are not asking for the Hart Trophy recipient. All they need is a 1st liner anchoring the second line who helps booster the forward group. Not the same elite player he used to be still a valuable piece the expectation for former Hart Winners are too much. 25 points in 30 games before traded to New Jersey, 27 points in 35 games for Arizona, 6 points in 9 playoffs games I wouldn't call "overrated" playing on bad teams. Not surprising that players struggle in this city Buffalo. Known for his playmaking ability to find teammates open. Does not score many goals seen throughout his career can not put the puck behind the net. The narrative about him acting like locker room cancer makes no sense for someone who barely talks. As head coach, Bruce Cassidy has options to form his four lines Charlie Coyle has been on a slump. The second offensive player to Boston is Curtis Lazar a checking defensive 4th liner. Anders Bjork going back to Buffalo is a pretty young player at 24 generates minimal offense effective on forechecking with speed. The 2021 second-round pick is the sweetener making this trade happen.
Mattias Janmark Trade
The Chicago Blackhawks went into the deadline as half sellers and re-toolers fighting for the 4th seed. Mattias Janmark had signed for a 1 year/$2.250 million hasn't done anything special offensively poor shooting percentage streaky player may pop off numbers than cool down.
He hasn't picked up his game ever since the 2017-2018 season and his game has stepped down ever since. Playing left-winger or center, he primarily plays defense fit on the third bottom or middle-six. The Las Vegas Golden Knights need center depth behind William Karlsson. Cody Glass hasn't developed to the star drafted 6th overall, Chandler Stephenson is a third liner, Tomas Nosek and Nicolas Roy are 4th liners. Vegas isn't asking much they need depth down the middle Janamrk is a solid option new change of scenery might help. He Boosters their bottom-six group getting more production besides Alex Tuch. The value of 2nd and 3rd is a win. Chicago managed to flip their free-agent acquisition last summer. The Golden Knights slightly overpaid they might have been forced to for retention only in return 5th and Nick DeSimone. All the Sharks did was to retain 50% with Chicago.
Sam Bennett Trade
After an overhaul last summer the Flames made moves signing Jacob Markstrom and Chris Tanev, sadly that all went crashing down. The team massively underachieved, firing Geoff Ward then hiring Darryl Sutter. In the offseason, something greater might happen a blowup or shakeup possibility trading Johnny Gaudreau and Sean Monahan. Sam Benett's haul couldn't possibly be better than a second-round pick. Top prospect Emil Heineman selected last year has the speed as well as IQ. Bennett never became the stud Calgary thought he would develop into since 2014 compared to Leon Draisaitl at one point. Just a physical presence on the bottom-six who racks hits. What the 24-year-old shines ironically is the playoffs 30 games for 19 points under his career. The Flordia Panthers played above expectations contesting the other two powerhouses in their division Carolina and Tampa Bay. Even if Sam Benett takes them far that too pricey giving up 2nd and good prospect. Bill Zito should've gone after a defenseman losing Aaron Eklad was huge your best blueliner, Brandon Montour isn't cutting it.
Anthony Mantha Trade
Steve Yzerman is a genius who made the deadline's biggest acquisition, receiving a massive haul. Anthony Mantha, drafted in 2013 became the 25 goals score due to Detroit's poor development culture he hasn't evaluate to the next level. When Detroit signed him to 4 year/$22,800,00 million they thought he'll the "guy" baring injuries. This season did not live up to expectations having zero effort on offense, defensive solid but somethings half-ass shifts. The Red Wings gave Mantha a chance they were not impressed. Management thought that this wasn't doing long-term, so you trade the player for assets. Yzerman knows what he is doing someone who GMed a championship team before. Jakub Vrana is a sneaky goal score not being used the right way playing under 15 minutes. Now in an increased role should thrive while putting his game to the next level.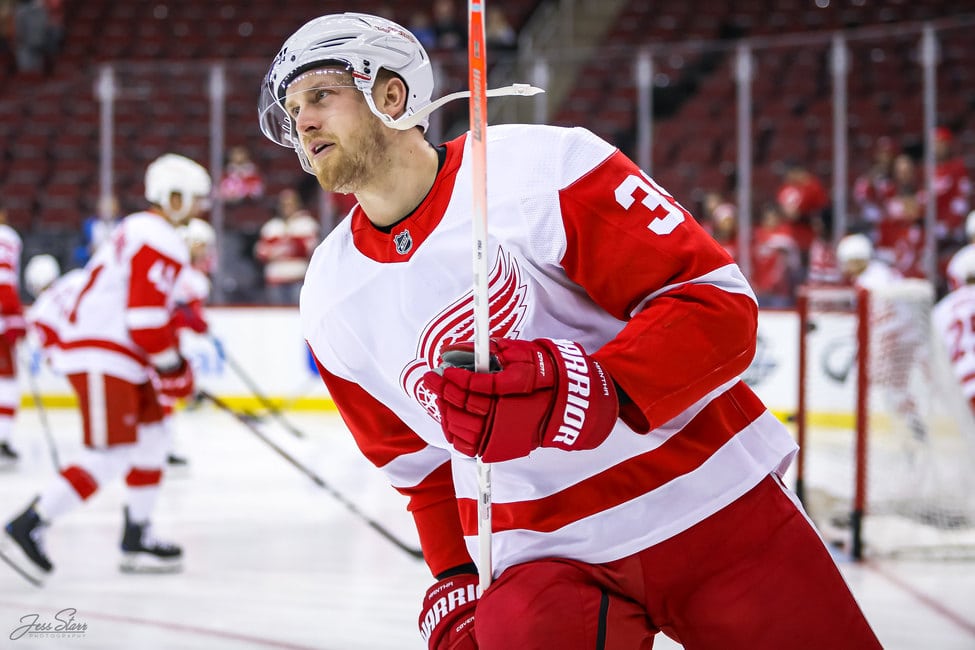 Richard Panik essentially a casual bottom-six winger an added throw-away piece. More draft picks on more draft picks the 2021 1st, 2022 2nd round pick totals draft capital. The Washington Capitals are after the second Stanley Cup, with an aging core makes sense to go after Anthony Mantha. Has the physical size to play the power forward style as a goal scorer. In a better situation, not having to be a team's best player helps his game having no pressure. His fit is not playing the 1st line rather the second line working most as the secondary option. A talented player needs to stay consistent the upside is there. Unfortunately, too much value the Capitals gave up picks and star winger. A good player, just that too many assets took for him. The only situation where Washington wins is them winning it all other than at Detroit fleeced the deal.
The trade deadline didn't have that much going. The sellers were not active at actually selling players to contenders.