Coming into this matchup, the Utah Jazz had won three games in a row. Things were finally starting to turn a corner. They dealt with major consistency issues in the 2019-20 campaign, and they had yet again fallen into a trend of being inconsistent. It started at the top, with the franchise's star Donovan Mitchell. He had put up a solid amount of points but wasn't very efficient in doing so. When he was at his best, the team was at their best. That being said, the team has been at its best as of late. When you pin a red-hot team that's playing up to their potential versus a team lacking talent (and not playing up to said talent), you have yourself a recipe for a blowout. The only thing that was stopping the Jazz in this one was themselves. 
Recap: 
Coming out of the gate, the Utah Jazz were draining shots. In the first four minutes, they got themselves out to an 18-4 lead. The defense fell apart, allowing the Hawks to score 11 consecutive points to make it a 3 point lead. The Jazz would get back into their rhythm, both offensively and defensively, for the remainder of the quarter, as they led 33-23. Mike Conley had 10 points in the first quarter, while Donovan Mitchell had 7. Rudy Gobert also grabbed 6 rebounds in that timeframe. 
The second quarter was back and forth for the majority of the quarter, The Hawks had managed to cut the lead to 5 with 4 ½ minutes remaining the second quarter, but the Jazz went on a 16-6 run to close out the half, which not only eliminated the ground that had made up by Atlanta but dug the Hawks' in an even bigger hole, as they were down 15 at the half. The two stars of the franchise were the main offensive producers in the second quarter, as Mitchell scored 13 points and Gobert scored 7, combining for 20 of the teams' 28 second-quarter points. 
As I mentioned in the first paragraph, there was only one thing stopping the Jazz in this game, and that was themselves. This proved true in the third quarter, as the Jazz' failed defensive adjustments gave Atlanta 11 straight points and made it a 61-57 game. Miraculously, the Jazz decided to take the approach of being competent and going back to what they do best instead of completely panicking and self-destructing. After Mike Conley made 2 free throws and John Collins made a 2 pointer, it was still a four-point game, Bojan Bogdanovic was determined to make something happen, to ignite a Jazz run to seal the game. This something was a traveling penalty as if Bogdanovic's incompetence shooting the ball wasn't detrimental enough to the team. The Hawks missed a shot, and then Bojan redeemed himself with a 3 pointer. This made it a 7 point game, and 6 minutes passed with nothing notable happening, but the Jazz did extend their lead to 8 points. The Jazz then went on a 5-0 run to end the third quarter. 
The Jazz acted as if the third quarter never ended, as they went on a 16-0 run to start the fourth quarter, which all but sealed the game. With 9 minutes left, the Jazz led 103-74, and they would go on to win the game 116-92. 
Box Score:
Mike Conley: 15 points (5-10 FG, 2-4 3 PT), 4 rebounds, 8 assists, 4 steals, 2 turnovers. 30 +/-
Donovan Mitchell: 26 points (10-20 FG, 6-10 3 PT), 3 rebounds, 1 assist, 3 steals, 3 turnovers. 14 +/-
Bojan Bogdanovic: 17 points (6-12 FG, 3-5 3 PT), 3 rebounds, 1 assist, 2 turnovers. 12 +/-
Royce O'Neale: 7 points (2-3 FG, 1-2 3 PT), 6 rebounds, 5 assists, 1 block, 1 turnover. 10 +/-
Rudy Gobert: 15 points (6-7 FG), 13 rebounds, 1 assist, 4 blocks, 1 turnover. 23 +/-
Jordan Clarkson: 16 points (6-17 FG, 4-12 3 PT), 7 rebounds, 4 assists, 2 turnovers. 8 +/-
Georges Niang: 10 points (4-8 FG, 2-6 3PT), 6 rebounds, 3 assists, 3 turnovers, 12 +/-
Miye Oni: 6 points (2-6 FG, 2-5 3PT), 1 rebound, 10 +/-
Derrick Favors: 2 points, (1-3 FG), 5 rebounds, 1 block, 2 turnovers, 5+/-
Udoka Azubuike: 0 points (0-1 FG), 1 rebound, 2 turnovers, -4 +/-
Elijah Hughes: 2 points (1-1 FG), 1 assist, 1 turnover, 0 +/-
Shaquille Harrison: 0 points (0-4 FG), 4 rebounds, 0 +/-
Brief thoughts: 
This result was to be expected. That being said, a few things from this game are relevant. Bojan Bogdanovic played well and he seems to be getting back to his normal self, not the terrible player we've seen so far this year. And also, Jordan Clarkson. Clarkson was ice cold for the first 3 quarters, scoring his first bucket with around 51 seconds left in the third. He padded his point total in the fourth, but his awful game prior shouldn't be ignored. Here's to hoping it's only one game and not a trend that will continue. 
Looking forward: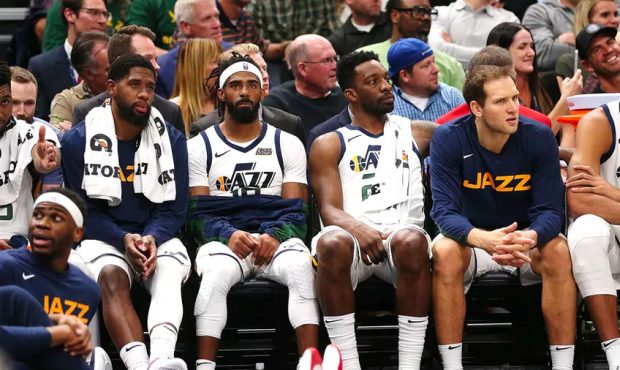 The Jazz have a very ideal schedule for a team that is as hot as they are. They travel to face the 6-6 Nuggets, followed by a 6 game home stand where they host the 4-7 Pelicans twice, the 6-6 Warriors, the 5-8 Knicks, and the 6-5 Mavericks twice. They then travel to Denver again to face the Nuggets, back home to face the Pistons, and then they head to the East Coast to face the Hawks and the Hornets before things get very tough in February. They can pretty easily go 8-3 or 9-2 in that 11 game stretch, and with their brutal schedule in February and beyond, they honestly NEED to do well in that easy stretch. 
As always, thanks for reading, and go Jazz!