A second wave with more trades, signings, or transactions is set to come since the new season is nearly finalized. The Islanders recently got Dmytro Timashov. The signing of big-name defensemen Alex Pietrangelo 7 year/$61,600,00 increased the cap. Rumors are circulating Max Pacioretty, yes owner Bill Foley came out saying he is not on the block. "We do have cap issues, and so some of those things have to be resolved as we go forward, we started getting into the season. But he is not being shopped."

Still, that doesn't mean the Golden Knights are hearing out offers currently. To begin Pacioretty was acquired for Tomas Tatar, Nick Suzuki, and Jayden Struble in 2018.
His first year he didn't perform all that well, only 40 points. Last season he went lights out with 32 goals and 66 points and led the team in both categories, the trade value is there. The contract brings $7 million, lasts until 2023-2024, and a modified no team trade clause added. He'll be 34 by then I don't see any regression anytime soon. The thing is moving someone who plays a big part in the offense not too keen. Remember how much was given up for Suziki so he would fix the second-line center hole. Can you get cheap in free agency? Maybe Mike Hoffman, Anthony Duclair, and Mikael Grandlund are available left. For the most part, this is a well-rounded roster but goal-scoring hinders, 13th in Goals Per Game around average. He may not be the best player like Mark Stone or William Karlsson but he's no doubt the best goal scorer. Note that they are only 974k over the salary, not that much.
Jonathan Marchessault has one more big contract on the books. 5 dollar a million cap hit which lasts until the 2023-2024 offseason modified again so no team trade clause where players submit 10 teams they reject. Marchessault had a big season during the 2018 inaugural year huge 75 points kind of went down since. 2018-2019 dipped to 59 came off 47 shortened 2019-2020 still significant dropoff. But over the last 3 seasons, his advantage statistics are good enough 68% EV Off, 75% PP, 89% xGF, 69% G/60, and 88% A1/60. He can put up 20 goals also combining that 50 points clear offensive threat I'll say that this should take easier to move $5 million is cheaper than the other ones. Still, an important piece to the club trading someone that caliber makes no sense core top-six forward. There is a trend of Vegas extending players for years then just to trade them.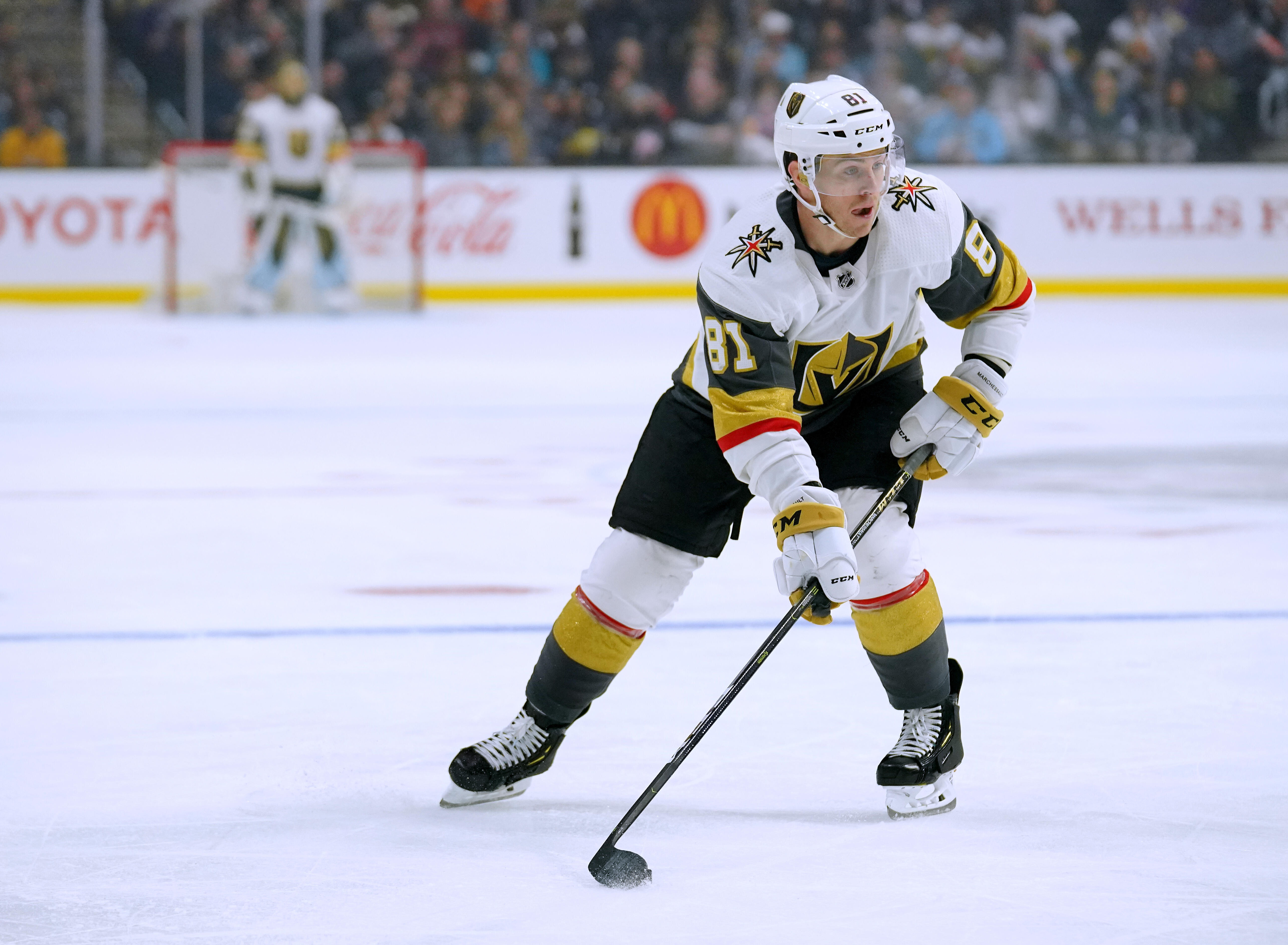 Alec Martinez former 2-time L. A Kings Stanley Cup Champions acquire last trade deadline another on the move. Expiring, the final deal $4 million apiece 16 points in 51 games there surely suitors for him. Zach Whitecloud quickly emerging as a top-4 defenseman replaces that spot already. Robin Lehner extended 5 years/$25 million has Marc-Andre Fleury again on the trading block. A harder contract to trade away $7 million with 2 years remaining a cheaper and solid backup is the deal. As previously mentioned, Players who have around $1 million are Nick Holden, Ryan Reaves, Tomas Nosek, and William Carrier. Vegas are contenders who need to work on getting under the cap limit.