For the first time ever, we had a Wednesday Night Football game, due to 4 postponements of the Ravens-Steelers matchup that was originally planned for Thanksgiving. In one of the ugliest games this season in the entire league, the Steelers improved to 11-0, although they were extremely disappointing in general.
The recap:
Pittsburgh won the coin toss and deferred, so the Ravens received the ball first.
The Steelers were able to shut down the Ravens' on their first drive, despite a 5-yard catch by Marquise Brown on the first play of the game. The Steelers held Edwards to a 1 yard gain and Steven Nelson stopped Justice Hill the instant he caught the ball on the short pass to the left side. The Steelers' first possession wasn't pretty either. Benny Snell was stopped after a 5 yard gain, Chase Claypool dropped a deep pass, and they couldn't get anything on 3rd and 5, as Roethlisberger was hit as he threw, and threw the ball just short of Eric Ebron. On the Ravens' first play of their second drive, Robert Griffin III mistimed the handoff and fumbled, as Vince Williams hopped onto the ball to secure great field position, as they would start just outside of the Red Zone. Snell was stopped after a short gain, got a first down in the receiving game giving the Steelers 1st and goal at the 6-yard line, but two passes to Eric Ebron got a combined 5 yards to put them at the 1. The Steelers decided to go for it, but a last-second attempt to ditch it to Benny Snell was picked off, despite having an open Chase Claypool in front of him. 2 plays later, RGIII threw into double coverage, and Joe Haden capitalized on the easy pick, which he took 14 yards for a pick 6. Chris Boswell, being the kicker that he is, missed the PAT, so the score was 6-0 PIT after this score. After a costly holding penalty and a sack, they had to punt it. Then, Ray Ray McCloud, after calling for a fair catch the last punt return when he could have made something happen, decided to defy all logic and not call for a fair catch, and got SLAMMED by Davontae Harris and fumbled. The Ravens then took this Christmas gift of an opportunity to score a touchdown, as Justice Hill scored from the 1-yard line. The Steelers then drove down the field, looking destined to score a touchdown. This drive was mostly led by an Anthony McFarland 17 yard catch and an Eric Ebron 27 yard catch. However, on two consecutive and-goal plays from the 7 yard line, Pittsburgh receivers dropped passes, the first time Chase Claypool and the second time Diontae Johnson. They settled for a field goal to take back their lead. After a 3 and out, they drove down the field again, led by a Chase Claypool 22 yard grab on 3rd and 10 and a Benny Snell 13 yard grab. Despite having first and goal at the 9, it was three consecutive bad plays for the Steelers. A JuJu one-yard loss, a forced pass that James Washington had no chance of catching, and an Eric Ebron drop (which wouldn't have been a TD, it would have just shortened the FG). They got a field goal, making it a 7-12 game. The Ravens drove, led by an RGIII 39-yard rush, but Minkah Fitzpatrick clutched up with a TD-saving pass deflection on the final play of the half. Aided by a DPI call on Marlon Humphrey, the Steelers were able to score a touchdown, as they just had decent gain after decent gain, with their biggest play being 10 yards on the drive. This made it a 19-7 game with 13 minutes left and had essentially sealed the game considering the dysfunction of the Ravens offense. After alternating punts (twice per team), the Ravens struck big as Trace McSorely threw a dime to Hollywood Brown, who used his speed to speed past the Steelers lost defenders. After this, Washingtons' 3rd down catch and Snell's nasty stiff-arm sealed the deal in putting the nail in the coffin for Baltimore's division chances.
The Analysis:
Holy fuck that game was an absolute shitshow, mostly on the offensive side. The offensive line was absolutely atrocious and created no holes in the running game. The pass-catchers dropped everything thrown their way, and cost the team SEVERAL touchdowns. Ben made several bad decisions that will cost the team games in the postseason, or against any competent team for the matter. Ray Ray McCloud is a fucking moron. He fair catches a ball that he could have broken a tackle (which he excels at doing) and gotten some yardage on one punt return. On the next punt return opportunity, he moronically decides not to fair catch a punt return despite several Ravens players plowing towards him. The special teams gave up too many yards on kick returns, and the defense had issues stopping the run at times. This is a performance that will get you eliminated from the playoffs, and it's absolutely inexcusable.
The Grades:
QB Ben Roethlisberger:
Roethlisberger was good for the most part. He did have several bad reads and made a couple of bad decisions, but he made most of the throws he needed to make, only for a crapton of those throws to be dropped.
Ben Roethlisberger Grade: B-
RB Benny Snell:
Benny Snell was pretty bad in this game. He was able to rip off some big runs to pad that yards per carry stat and got stuffed for 1 or 2 yards on a ton of his runs. That being said, the O-Line was atrocious, so a lot of that can't be pinned on Snell. However, there were some holes he should have gone through, some scenarios where he forced things, and it wasn't a great showing overall.
Benny Snell grade: C
WR core:
The number of drops was a complete and total embarrassment, to be brutally honest with you. If 75 percent of the dropped passes were caught, Ben probably only throws 40 or 45 times and has 250 or so passing yards. So many opportunities for yards, and touchdowns as well, were thrown away. 19 points is an embarrassment, and when you throw the ball 51 times, the WR core is going to be the largest determining factor on how many points you score. Chase Claypool was awful while Diontae Johnson was inconsistent. JuJu was good, and Ebron was a pleasant surprise early in the game as he was carrying the team. However, it is Eric Ebron, so of course, he dropped a few passes in this game.
WR Core grade: D
Offensive Line:
Lol. That performance was a hot mess, inside of a dumpster fire, inside of a train wreck, as Jake Tapper would say. They couldn't block a practice squad defense. Absolutely pathetic.
Offensive Line Grade: F-
Defense:
Never change, Steelers defense. Never change. The defense played phenomenally in this matchup and ultimately is the reason we won. We got to RG3 3 times for a sack, pressured him into throwing it away numerous times, and stopped the running game on most plays, although the big plays were a bit of an issue. Robert Spillane was making plays left and right. TJ Watt was more or less non-existent in the first half but came in clutch in the second half. Dupree wasn't anything special in this game, but that injury is a massive loss to the Steelers' defense. I and everyone at the Rumboyz Fantasy Network are wishing him the best in his recovery. Joe Haden is an absolute legend. I have been his largest critic this season, and he has shut me up with spectacular performances in the last 3 weeks or so. He was playing lockdown coverage in the passing game, where he was rarely targeted and had a pick 6 in the first quarter.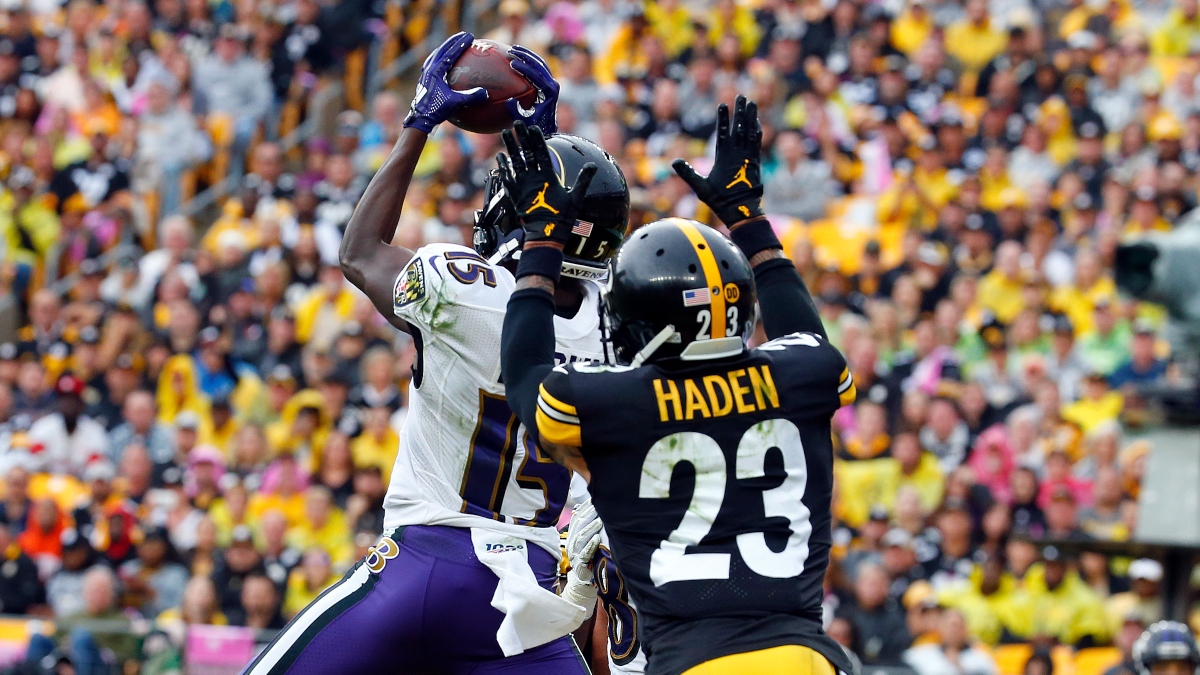 Terrell Edmunds and Minkah Fitzpatrick were good in this game. They did their job and weren't forced to make plays often. However, Edmunds and Fitzpatrick both failed to bring down Hollywood Brown on the 70-yard touchdown late in the game.
Defense Grade: A+
Special Teams Grade: C-