George Floyd's funeral will be held in Houston on Tuesday, June 9. He was tragically killed while in police custody in Minneapolis on May 25. Since that fateful day, global protests have broken out demanding an end to racial injustice and police brutality.
Deshaun Watson along with fellow teammates Jacob Martin, Zach Fulton, Peter Kalambayi, and special advisor for the Texans Andre Johnson attended a peaceful march led by rapper Bun B and Floyd's family in Houston on Tuesday, June 2nd. Houstonians, marchers, police, and the Texans signal-caller among other diversified groups marched from Discovery Green to City Hall to showcase powerful moments of unity as they honored George Floyd in a non-violent manner. Watson walked among a crowd of over 60,000 on Tuesday, and on Wednesday Bill O'Brien, the general manager and head coach of the Texans spoke out.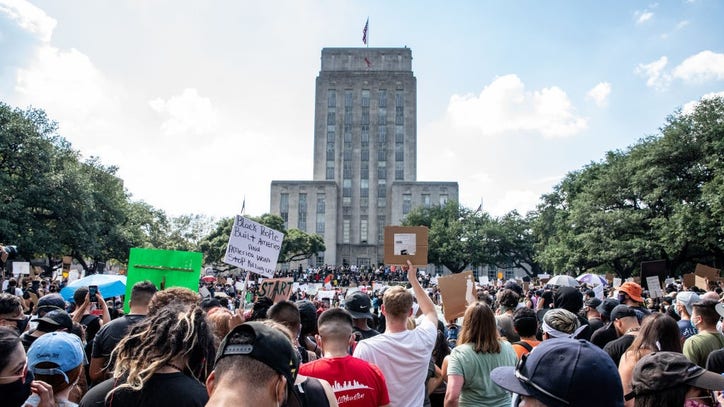 The ZOOM meeting Wednesday morning, before a news conference for newly signed safety Michael Thomas, began with O'Brien stating he was going to take a few minutes to discuss the events of the past 8 or 9 days in regards to the murder of George Floyd, specifically the treatment of minorities by police. What some anticipated would be a short pre-drafted statement led to the following.
O'Brien vocalized on behalf of the organization and also spoke from the heart on Wednesday morning. He expressed that he had been "thinking and listening", "trying to understand" the events that unfolded.
The first thing O'Brien mentioned was his deepest condolences to Houston's own George Floyd's family. He praised Floyd's family for being a great example in Houston, uniting and rallying the city behind them. He also commended them for traveling to pray in Minneapolis at the site of George's death. "The more I read about George and think about George and know he played football at Yates High School and know how much he loved Houston and how much he loved his family. Watching his family over the last three or four days and how passionate and unbelievable strong they are, it's been a great example for this country."
The head coach and GM moved on and cited a conversation he had recently with a close friend of his whom he chose to leave anonymous. The conversation allowed BOB to listen and understand his friend's experiences growing up as a black man in Miami and on the West Coast, where O'Brien said, "It makes me angry personally. We have to do better. It's so much deeper. Its 400 years of slavery. It's segregation. It's police brutality. It's not equal opportunities. We have to stand with the black community. We have to heed the call to action."
O'Brien followed by declaring "our hearts go out to the black community" and "we stand by you." The coach of the Texans the last 6 seasons did not deliver a typed out statement, he was candid and did not mince words. "[We are] ready to do our part in the community…everyone has to admit their mistakes along the way…stand up and admit what is going on in this country is wrong."
The first-year general manager mentioned how much he has learned from wide-receiver Kenny Stills in a short time. "I think we all know why Kenny takes a knee, why (brother of team safety Justin Reid) Eric Reid takes a knee. One of the things I try to do is coach football and I try to listen to the players and the coaches and their life stories." He also mentioned that he has learned from Deshaun Watson, specifically citing the quarterback's upbringing in Gainesville, Georgia.
O'Brien pressed the issue for a change. He noted that he also spoke to Miami Dolphins head coach Brian Flores, a man he calls a friend, "we 100% agree that what we saw in Minneapolis is absolutely horrendous and has to spur change." He mentioned that he read Flores' statement addressing racial injustice "probably 50 times."
Comments from San Antonio head coach Greg Popovich's statement on the issue were reiterated, "there can be no leadership without empathy." Coach O'Brien continued, stating that "everyone needs to do their part." That "leadership is about unifying." In the game of football, "no one is bigger than the team. [The team] brings different people together from all over to reach a common goal", and that is what the country should be doing. He praised leaders such as former presidents Obama and Bush, and included Brian Flores and coach Popovich with them, calling out "true leaders…have honesty, transparency, and decency."
O'Brien mentioned that Obama stated we should all be activists. He reiterated that Bush announced that leaders need to admit mistakes and listen. For O'Brien "it's important to speak out as white football coach in the NFL." He wouldn't have the perspective he has without the relationships that were created with people of color and minorities in the league.
Houston's head coach expressed his heartbreak, stating we need to do better. "On behalf of the Houston Texans, we want to offer our condolences to the family of George Floyd — Houston's own George Floyd," O'Brien said. He added the team will not meet on the day of the funeral for George Floyd. Rather he encouraged players in the area to attend the service that is scheduled for Tuesday, June 9. O'Brien added that he had the players back in 2014 and in 2017 when insensitive comments made by then owner Robert McNair were met with players leaving practice and threatening to sit out games. O'Brien at the time publicly stated, "I support my players 100 percent."
The head coach also stood by his quarterback, Deshaun Watson, when Onsalaska ISD superintendent Lynn Redden made a racist comment on Facebook culminating his thoughts about clutch situations with, "you can't count on a black quarterback" after a 20-17 loss to Tenessee in 2018. An agitated O'Brien didn't want to discuss the statement in detail but called Redden's comment "outdated, inaccurate, ignorant, [and] idiotic."
Bill O'Brien continued on Wednesday by offering help to his team if the players needed time, resources to heal, someone to listen to, even if it wasn't him personally, the head coach would do everything in his power to make sure they get what they need.
O'Brien also briefly touched upon conversations he's had with the front office, particularly Cal and Janice McNair as well as Jack Easterby. He was quick in these regards but expressed the organizations' frustrations over the injustice. He deferred to Cal McNair who would later address the media on his own accord.
After closing and moving on to discussing the addition of Michael Thomas in the secondary, Thomas had this to say, "Coach, that was encouraging to hear that from you. To have a head coach say that, as a young African-American male NFL football player, that means a lot." Thomas is a Houston native and one of the original players to protest police brutality along with Kenny Stills in Miami.
NFL players united to send a message about Black Lives Matter. Deshaun Watson appeared in the video along with former Texans Tyrann Mathieu and DeAndre Hopkins.
While O'Brien's coaching and general management skills have rightfully come under intense scrutiny, he clearly has demonstrated full support for a cause that many others in his position have failed to address or comment on with sincerity and empathy.
YOU CAN WATCH O'BRIEN'S FULL STATEMENT HERE
---
Below Please find an Extensive List of Ways You Can Help
Vi

c

t

i

m

 

m

e

m

o

r

i

a

l

 

f

u

n

d

s
Donations will go toward paying bail/bonds to release protesters jailed in states with bail/bond systems. If you'd like to make a localized contribution to a bail fund in a city or state not shown below, the National Bail Fund Network lists the funds you can donate to in all states with bail/bond systems.
• National Bail Fund Network COVID-19 Emergency Response Fund
• Louisville Community Bail Fund
• Nashville Community Bail Fund
• Dallas Bail Fund for Protesters
• People's Program Bail Out Fund; Oakland, California
• Columbus Freedom Fund; Columbus, Ohio
Single donations will be split between multiple organizations, with the ability to adjust what goes where.
• Act Blue Bail, Mutual Aid, and Racial Justice Organization Funds
• Act Blue Racism and Police Brutality Funds
Donations, made via Venmo, Cash App or PayPal, will go directly into the pockets of activists and organizers on the front lines of protests.
• Mitch Gayns's community supplies fund; donations go to Gayns, the host of Those People podcast and a Boston-based protester who is using the funds for supplies — such as snacks, Band-Aids, and flashlights — for protesters, and providing receipts for purchases on his Twitter feed.
• Isak Douah Minneapolis Gas Mask Fund; donations go to Douah, who is using the money to buy gas masks for black youth activists on the front lines to protect them against tear gas used by the police.
• Black Earth Farms Food Delivery Fund; donations go to Oakland, California–based Black Earth Farms, which is cooking and delivering food to black protesters who have been arrested, bailed, or injured.
C

o

m

m

u

n

i

t

y

 

r

e

s

t

o

r

a

t

i

o

n

 

o

r

g

a

n

i

z

a

t

i

o

n

s

 

a

n

d

 

f

u

n

d

s
Donations will go toward rebuilding businesses and other parts of black communities where protests have occurred and/or have been particularly hard hit by the coronavirus pandemic.
• Minnesota Rapid Response Coalition; Twin Cities, Minnesota
• The Lake Street Council; Minneapolis, Minnesota
• Pimento Relief Fund; Minneapolis, Minnesota
• West Broadway Business & Area Coalition; Minneapolis, Minnesota
• Rebuilding Oakland Black Businesses Fund; Oakland, California
• My Block My Hood My City; Chicago, Illinois
C

o

m

m

u

n

i

t

y

 

e

n

r

i

c

h

m

e

n

t

 

o

r

g

a

n

i

z

a

t

i

o

n

s
Donations will go toward arts, technical, or other programs for black and brown people.
• Helping Educate to Advance the Rights of Deaf Communities 
• Assata's Daughters; Chicago, Illinois
• Centro de Trabajadores Unidos en la Lucha; Twin Cities, Minnesota
• Twin Cities Recovery Project; Twin Cities, Minnesota
• Black Feminist Project; New York City
Y

o

u

t

h

–

o

r

i

e

n

t

e

d

 

c

o

m

m

u

n

i

t

y

 

o

r

g

a

n

i

z

a

t

i

o

n

s
Donations will go toward funding initiatives for educating black and brown youth, such as programs for coding, activism camps, and providing books for schools.
• GirlTrek
• Colin Kaepernick Know Your Rights Camp
P

o

l

i

c

y

 

r

e

f

o

r

m

 

o

r

g

a

n

i

z

a

t

i

o

n

s
Donations will go toward legislative efforts to overturn systemically racist policies at either national, state, or local levels.
• American Civil Liberties Union
• Black Lives Matter Global Network
• Color of Change Education Fund
• Moms Demand Action; donations will be matched dollar for dollar by Everytown, Moms Demand Action's parent organization
• Black Visions Collective: Minnesota
• Take Action Chapel Hill; Chapel Hill, North Carolina
• Austin Justice Coalition; Austin, Texas
• Dallas Alliance Against Racial and Political Repression; Dallas, Texas
Donations will go toward black-voter education initiatives and supporting black political candidates.
• Fair Fight; National, but mainly Georgia
• The Collective Political Action Committee
P

o

l

i

c

e

 

r

e

f

o

r

m

 

o

r

g

a

n

i

z

a

t

i

o

n

s
Donations will go toward police reform initiatives, including efforts to redistribute police funding to other social services.
• The National Police Accountability Project
• Communities United for Police Reform
• Communities United Against Police Brutality
• Equality for Flatbush; Brooklyn, New York
I

n

c

a

r

c

e

r

a

t

i

o

n

 

r

e

f

o

r

m

 

o

r

g

a

n

i

z

a

t

i

o

n

s
Donations will go toward prison reform efforts to stop excessive punishment, mass incarceration, incarceration in general, and the creation of new jails and prisons.
• Release Aging People in Prison
L

e

g

a

l

 

d

e

f

e

n

s

e

 

f

u

n

d

s

 

a

n

d

 

o

r

g

a

n

i

z

a

t

i

o

n

s
Donations will go toward legal aid and education for black, brown, and other minority groups.
NAACP Legal Defense and Educational Fund
Transgender Law Center Black LGBTQIA+ Migrant Project
Moral Governance; San Diego, California
Restoring Justice; Texas
Donations will go toward providing immediate mental health and health-care support, monetary support, and education to black LGBTQ communities.
• The Nina Pop and Tony McDade Mental Health Recovery Fund
• Homeless Black Trans Women Fund; Atlanta, Georgia
• Black Trans Travel Fund; New York City
• Emergency Release Fund; New York City
• F2L Relief Fund; New York State
• Black Trans Advocacy Coalition COVID-19 Community Response Grant
• For The Gworls Party; donations are collected through Venmo, PayPal, and Cash App
B

l

a

c

k

 

L

G

B

T

Q

 

o

r

g

a

n

i

z

a

t

i

o

n

s
Donations will go toward providing ongoing mental health and health-care support, monetary support, and education to black LGBTQ communities.
• House of GG; Arkansas
• Trans Justice Funding Project
• Youth Breakout; New Orleans, Louisiana
• Solutions Not Punishment; Atlanta, Georgia
• Trans Cultural District; San Francisco, California
• The Audre Lorde Project; New York City
• The Marsha P. Johnson Institute
• Vocal New York; New York State
• Gays and Lesbians Living In a Transgender Society
• Princess Janae Place; New York City
B

l

a

c

k

 

a

n

d

 

b

r

o

w

n

 

m

e

d

i

a

 

o

r

g

a

n

i

z

a

t

i

o

n

s
Donations will go toward supporting black and brown media outlets and journalists.
• Ida B. Wells Society for Investigative Reporting
• Migizi
M

e

n

t

a

l

 

h

e

a

l

t

h

 

o

r

g

a

n

i

z

a

t

i

o

n

s
Donations will go toward providing mental health care and education to black communities and individuals.
• Black Emotional and Mental Health Collective
• You Good Sis Yoga Collective
• National Queer and Trans Therapists of Color Network
• Peoples Oakland; Oakland, California
H

e

a

l

t

h

–

c

a

r

e

 

f

u

n

d

s

 

a

n

d

 

o

r

g

a

n

i

z

a

t

i

o

n

s
Donations will go toward providing medical aid, including COVID-19 and reproductive care, to black, brown, and other minority communities.
• National Black Disability Coalition
• BET and United Way COVID-19 Relief Fund
• Mobile Outreach and Outdoor Drop-In
• COVID-19 Bail Out NYC; New York City
---
Miles Peacock is a content writer covering the NFL's Houston Texans and various fantasy topics. He is a regular contributor for the Timeskewed.com and Rumboyz.com fantasy sports websites. Follow Miles on Twitter @FF_Peacock.