Welcome to the battle of the average draft position (ADP)! I had so many different topics to pull from, but for my very FIRST official Fantasy Football article I would like to offer some advice and reasoning for choosing between players with similar ADPs. 
Let us take a look at some probable scenarios that fantasy managers will be staring down on the day of their drafts. For this particular article we will take a look at six skill players from the following positions: RBs, WRs, and TEs. 
League Format: (12tm, PPR, Superflex)
Running Back
Both the Bengals Joe Mixon and Browns Nick Chubb have been polarizing for fantasy discussions. They carry a current late first to the early second-round ADP, but depending on your league mates tendencies you may see one of them go as early as pick 5 or 6. Let us dive into each player for a moment before passing a final ruling on which one is ultimately the wiser choice.
Joe Mixon
Joe Mixon is as underrated as it comes for a starting running back in the NFL. His tape the last two years speaks for itself especially, when you consider the suffering the team has gone through over the last several seasons. Mixon finished as RB13 in classic leagues and RB10 in PPR formats. That is tremendous production for a player on a team that was in the bottom half in scoring over the last two years. 
OT Jonah Williams is returning from injury and he will be an immediate impact player on the line. The additions of Joe Burrow and Tee Higgins only help to take attention away from Mixon. AJ Green is set to finally return from the injured reserve list as well. Weapons like Tyler Boyd, John Ross, and Auden Tate have also emerged in Green's absence. Joe Mixon will be the largest beneficiary of these offensive weapons being added. Rushing lanes should open up for Mixon more than last season. Dump-offs will also occur early and often with a young rookie facing off against NFL pass rushers. There is still a chance that the Bengals are not a good football team and struggle to score points, but even that has not put a damper on Mixon's production thus far. It was a shame he had to wait behind Hill and Bernard before getting RB1 volume. 
Nick Chubb
Nick Chubb did what everyone expected him to do with a workhorse load, BALL OUT! Chubb ran for almost 1500 yards and 8TDs while adding in over 250 receiving yards last season. If you had Chubb, he likely won you multiple weeks and provided a steady fantasy player for your roster. The Browns will have a new head coach with a run-first philosophy this season. How will that bode for Chubb?
Kevin Stefanski is known for his run-first offense. We all saw the Vikings pound the football all game long with Dalvin Cook. The common assumption amongst the Fantasy community is that Nick Chubb will assume a Dalvin Cook like role. Let's not jump to conclusions. Kareem Hunt is an elite NFL running back who ate into Chubb's role once he returned from suspension.
If Hunt was on another team that gave him the lions-share of the touches there is no doubt he would finish as an RB1. Expect a football-mind like Stefanski to be salivating at the idea of using Chubb and Hunt together. Hunt will not overtake Chubb's role in the offense (barring injury). He is the better pass-catcher and will be used more in that role. Hunt's involvement will still eat into Chubb's workload, some weeks more significantly than others. Some will say, "the Vikings used Alexander Mattison sparingly last season and that is how Hunt will be used." This argument doesn't really hold because Hunt is the much better player and only lost his RB1 status in Kansas City due to legal troubles. Let's not overlook Odell Beckham Jr., Jarvis Landry, and Austin Hooper who could be considered upgrades from the Vikings pass-catchers. Perhaps Stefanski involves more passing this year which in turn leads to some regression in the run game.
Conclusion 
Chubb over Mixon was my initial reaction before putting in much research; however, it is much closer than simply leaning on the better offense from a season ago. Both backs offer similar floors, but when deciding who to choose from it is the one with the highest ceiling that is more enticing. That being said, Joe Mixon has produced with a terrible team two years in a row. Could this finally be the year that he will actually take off and become that top 5 RB? The talent is certainly there. Mixon has virtually no one else in terms of competition for touches in the backfield. If the newly added aerial assault in the form of Burrow and Higgins can give Mixon room to run then look out!
Kareem Hunt will definitely get a solid workload this upcoming season and for however long he is on the Browns. That will ultimately cap Nick Chubb's upside for production. 
Projection: Joe Mixon widens the gap and finishes #5 RB while Nick Chubb is limited by the involvement of Kareem Hunt and finishes #11 RB.
Wide Receiver
The next bout of ADPs comes between a pair of wide receivers, Arizona Cardinal DeAndre Hopkins and Green Bay Packer Devante Adams. Both of these receivers are being drafted late first-round to the early second round as well. Hopkins is will typically be drafted before Adams, especially in the 12 team, full PPR format we are using for these examples. Throughout several mock drafts during the off-season I have yet to see Adams off the board first. Let us dive into why that might be a mistake this year.
DeAndre Hopkins
Nuk has all-world talent. Deceptive speed, excellent route running, stellar work ethic, and a tremendous catch radius. His hands are out of this world. Hopkins is coming into a safe, but an unfamiliar situation. Hopkins will be on a different team for the first time in his career. He now joins 2nd year QB Kyler Murray who exhibited bursts of stardom at times last season. In general, wide receivers tend to have down seasons in their first year on a new team. The majority of skill-position players have down seasons in their first year with new players, coaches, and schemes. Hopkins has excelled with numerous subpar QBs though; i.e, Yates, Hoyer, Savage, and Osweiler to name a few.
The Cardinals have numerous offensive weapons in comparison to the Houston Texans. Hopkins was hyper-targeted in the offense and only saw 150 balls go in his direction a season ago. The high target volume was mostly in part because there was no one else to throw the ball to in Houston (note Will Fuller's extensive injury history). Nuk will 100% lead the Cardinals in targets, but he will likely not be accepting upwards of 160 with Christian Kirk, Kenyan Drake, Larry Fitzgerald, and several other young receivers in tow. For context, before Michael Thomas' huge reception season last year, he had averaged 139 targets over three seasons. Taking that into consideration and the other weapons on the Cardinals, I expect Hopkins to be in the 135-145 target range. Hopkins will continue to be a world-beater, but his ceiling cannot be any higher than it has been the last 5 seasons when he finished with 192, 151, 174, 163, and 150 targets.
Devante Adams
Aaron Rodgers's number one receiver has always been a coveted fantasy asset. Devante Adams has been the beneficiary of being Rodgers's main target for the past 4 seasons. A year ago turf toe spoiled what would have been a fantastic season for Adams. At the time of injury in Week 4 his stat line was 10 receptions for 180 yards. The Adams and Rodgers connection was revving up for a huge season before the injury derailed those plans. 
Rodgers's play has declined partly due to a lack of other viable options in the passing game. The other component has been injuries, both to his primary target and himself. It doesn't help that Rodgers is no longer a spring chicken. You have to consider just how good Devante Adams can be when you bake in those factors. The good news is that the Packers failed to bring in any wide receiver help during free agency and in the draft.
Despite the injury, Adams was a WR1 six out of the eight weeks he played once he returned. Devante received 10 plus targets in all but one game post-injury. Despite missing 4 games, Adams finished with 83 receptions, 997 yards, and 5 TDs. Good enough for WR23 in PPR format. This all occurred simultaneously as Aaron Jones stole the show on offense with a remarkable season. Jones is surely due for touchdown regression as his season-high mark of 19 appears to be unsustainable. That could be great news for Rodgers' favorite red-zone target, Devante Adams. 
Conclusion
From a pure athletic talent standpoint Hopkins may have the advantage over Adams; however, elite talent does not always translate into elite fantasy production. Volume speaks volumes, especially in fantasy. Deandre Hopkins has had a huge success in large part because of his immense target share. Now that he is joining the Cardinals he will likely see less work with Kirk, Fitzgerald, and a plethora of young receivers that will eat into his share of the offense. In Houston Nuk always commanded more than 30% of the targets. Fitzgerald is due to retire any season now, but who knows how long he will continue to be Kyler Murray's safety valve. Nuk is going to produce the top 10 numbers no matter where he is or who is throwing him the ball. His top 5 days may be behind him though. Devante Adams is a nice choice at a slightly lower ADP because he will demand a higher per game target market. Adams has the easier path to be a top 5 receiver with no other competition around him, I mean this was mostly the reason we loved Hopkins for all those years.
Tight End
The tight end position is reasonably the hardest to predict. There are only a few top-tier guys who are reliable studs. After the first tier there is a plethora of fantasy TEs that have a knack for scoring fantasy points. For this ADP battle we will focus on two NFC East beasts in that second tier in Evan Engram from the Giants and Zach Ertz from the Eagles. According to fantasyfootballcalculator.com: "Engram's current ADP is 6.10, which indicates that his fantasy outlook is in the 10th pick of the 6th round, and 70th selection overall". In comparison, here are there ADP metrics for Ertz: "Ertz's current ADP is 4.06, which indicates that his fantasy outlook is in the 6th pick of the 4th round, and 42nd selection overall." This metric is averaged across 12 team dynasty and redraft PPR, half PPR, and standard leagues. For reference, Engram has consistently been going ahead of Ertz so far this offseason in full PPR redraft leagues and their ADPs are slowly getting closer. Dynasty ADPs will also factor in age and competition for targets out of the positional group.
Evan Engram 
When on the field, Engram shows up with his 6'3 frame and a 4.42 speed in the 40. It is uncommon, almost nonexistent to have a tight end take the top off a defense, and be a legit vertical threat. The last good speedster at the tight end that I can remember is Vernon Davis. Engram's problems aren't with his talent but his ability to stay on the field. He hasn't played a full season yet, missing 8 games last year and 5 the year prior. He's only 25 years old and heading into his fourth year as a pro, so there is plenty of upside to grow with a young Daniel Jones as his QB.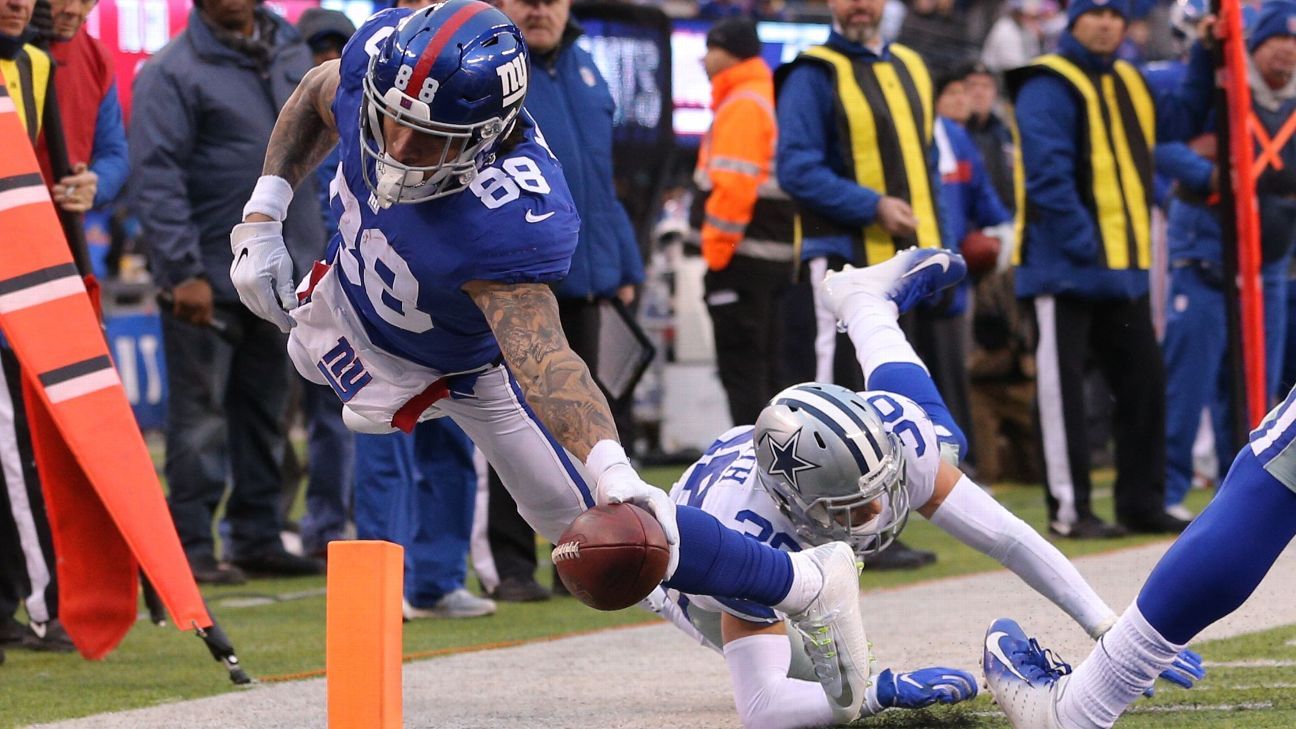 If Engram is healthy he should unquestionably be the #1 target for Jones. Outside of Saquon Barkley, no one has All-Pro talent on the Giants quite like Engram possesses. It all comes down to staying healthy for Engram.
Zach Ertz 
Ertz has finished as a tight end 9 or better over the last five seasons. Only Travis Kelce has been more consistent. Unfortunately for Ertz he is already in his 30s and the Eagles added a few rookie and veteran receivers. The team desperately needed to add to a lackluster receiving group. Only rookie Jalen Reagor figures to actually receive steady targets weekly.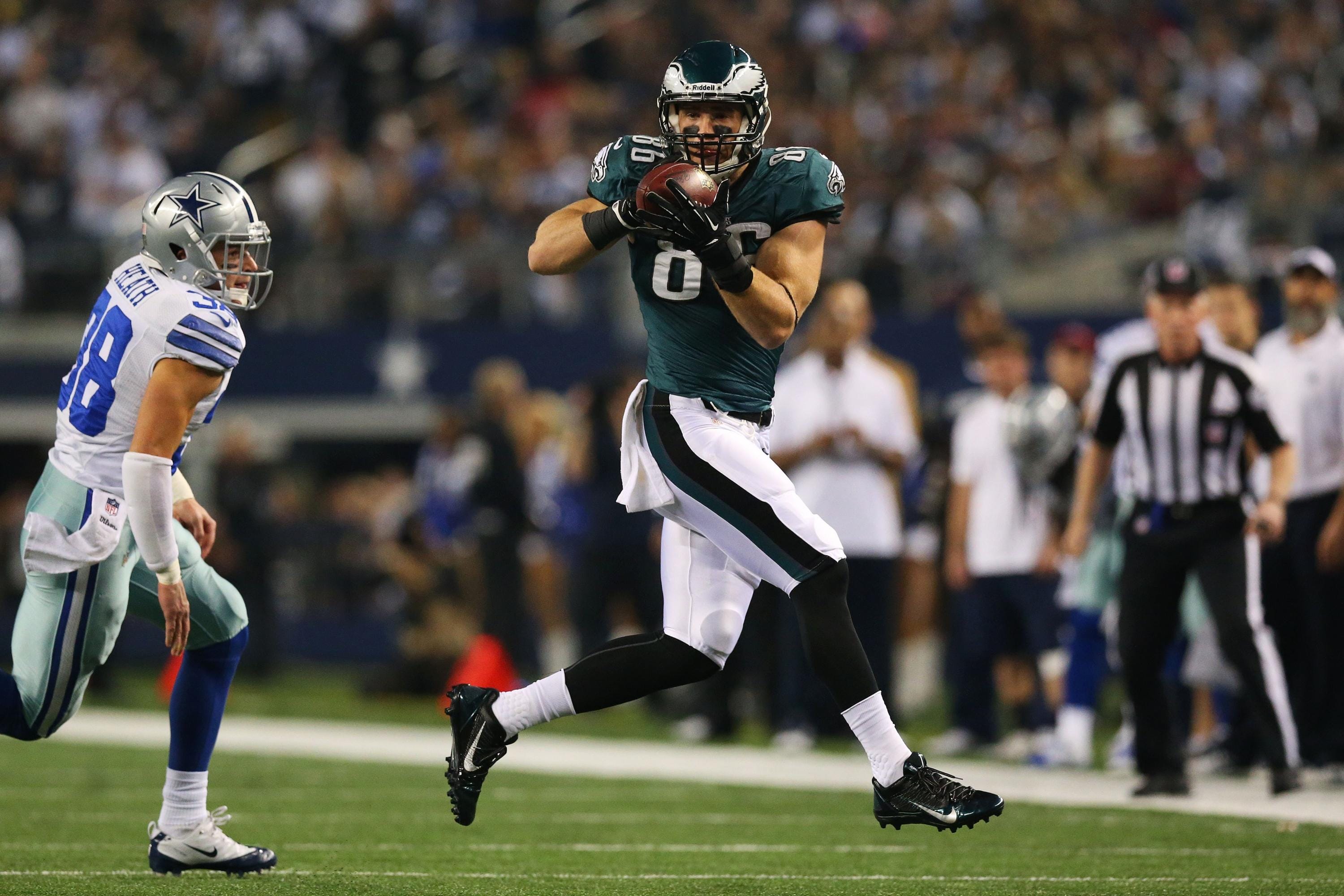 Many will argue that Dallas Goedert, who received a large number of targets last season, will slowly take away Ertz job as the starting tight end. True, Ertz's targets have shrunk each of the last three years, but he has managed to still command 100 targets in each of the last 5 seasons. The large target share Goedert received last season was largely due to the Eagles having injuries and inconsistent play at every pass-catching position. With the addition of new receivers and the return of veterans that dealt with injury (Jeffery/Jackson) we'll see fewer two TE sets, in turn sending Goedert to the sideline. Ertz is one of the safest plays in all of fantasy even with the seemingly inevitable rise of Dallas Goedert.
Conclusion
A player who has not played 12 games in that last two seasons because of knee injuries is not someone I would bet on being a consistent contributor, especially with a high-cost ADP. In fantasy there is a huge advantage when you have a consistent weekly option at tight end. Securing a player like Ertz in your draft will provide a solid floor at the position and gives you a consistent fantasy asset. It will take something that has never happened before for me to consider Engram in drafts, either he falls tremendously in ADP or he proves that he can actually play a complete season.
Final Thoughts
When I was writing this piece, I wanted to keep "upside" in mind because when you are deciding between two stud players at the same position upside should be the deciding factor. For example, Hopkins and Adams both will be top 10 receivers but which is more likely to finish higher given the circumstances surrounding him? That is where factoring in upside becomes so important. You always want the player who has the chance of producing more, this goes double for dynasty leagues and late-round flyers. It seems obvious, but when emotions are flowing during the draft making the right decision is not always easy. My hope is that content like this will help you work through that mental process when deciding between two similar players. Draft well friends. 
—————————————————————————-
More about the author: What's up everybody, I'm Anthony. I was born and raised in San Francisco, California. I now live in the PNW area with my girlfriend and our three pets. We have one four-year-old french bulldog and a one-year-old Pitbull/Black lab mix. We just recently welcomed an 11-week old kitten. You could say that I am an animal lover. 
I started truly getting into fantasy football about three years ago and nothing has been the same since. My life revolves around sports. Writing is a passion of mine and I look forward to providing some excellent football content for you over on RumBoyz.com. Don't forget to follow me on Twitter @HotTakeFF