The Baltimore Ravens were one of the biggest surprises of last season. This is not only because they were legitimate Super Bowl contenders, but because of their dominance throughout the year.
The Ravens exploded onto the scene in Week 1 against the Miami Dolphins. In their season opener, Baltimore showed off a new high powered offense and willingness to run the football. Though Weeks 3 and 4 revealed some chinks in the Ravens' amour, they finished the season on a twelve game win streak. Their 14-2 record in 2019 was good enough for the number one overall seed in the AFC.
Baltimore fell to the Titans in the divisional annihilating their Super Bowl dreams in the process. Genera Manager Eric DeCosta looked to make selections that would add to this record-breaking offense while simultaneously trying to turn the defense into a brick wall. Who would the Ravens pick to address these needs?
Round 1 Pick #28: Patrick Queen, LB, LSU
The Ravens began their 2020 NFL Draft with a splash, selecting LSU linebacker Patrick Queen 28th overall. The linebacker position was not a heavy priority for teams in the early going of the draft.
Only Isaiah Simmons, Kenneth Murray, and then Jordyn Brooks were taken ahead of the Ravens' 1st round selection. Baltimore could consider themselves lucky to get Queen, as he was believed by many to be the best LB in this draft aside from Isaiah Simmons. Queen offers Baltimore freakish athleticism which allows him to perform well in coverage as well. The Ravens may have landed their next franchise LB in selecting Queen in the first round.
Round 2 Pick #55: JK Dobbins, RB, Ohio State 
Taking a running back in the 2nd round may not have been on everyone's mind when Baltimore was on the clock at pick #55. The Ravens had taken Justice Hill a year prior in the 4th round. They also already had Mark Ingram and Lamar Jackson carrying the ball the bulk of the time.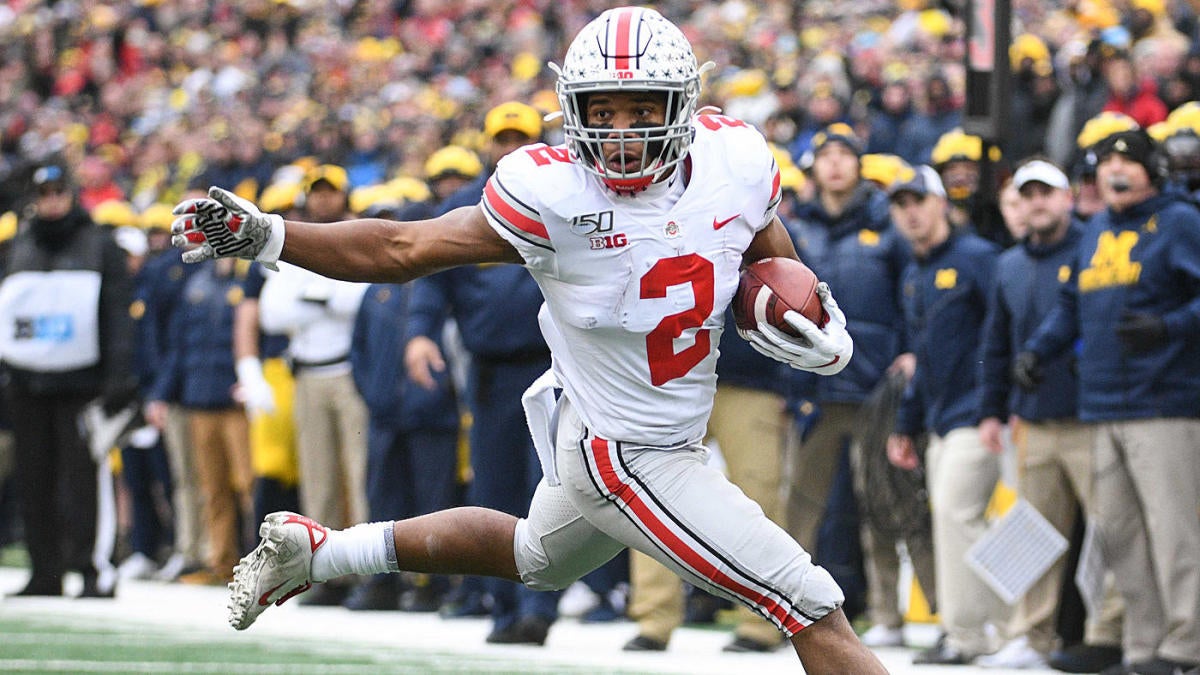 The Ohio State product was a highly coveted running back on NFL scouts' lists. The that fact that Dobbins remained on the board near the end of the second round may have swayed DeCosta to pull the trigger on the well-rounded back. In college Dobbins proved he can block, catch, and run the ball with a willingness to do it all. Dobbins immediately brings good speed, great vision, and elusiveness in the open field to already loaded backfield.
This selection is a great value pick for Baltimore, as their run-heavy offense gets another option to tote the rock. Mark Ingram is now 30 years old and coming off an injury. Baltimore may have drafted the next feature running back in Dobbins.
Round 3 Pick #71: Justin Madubuike, DT, Texas A&M
Neville Gallimore was still on the board, but the Ravens went with Justin Madubuike at pick #71. Madubuike offers very similar talent and also fills a future need for Baltimore.
Derek Wolfe and Calais Campbell we also added this off-season, so it appears the defensive line has gotten even beefier. Wolfe's deal is only for one year and Campbell is long in the tooth by NFL standards. Madubuike looks to be the long term solution as he offers good power and pressure up the middle. He tallied 22 tackles for loss and 11 sacks in his Sophomore and Junior seasons at Texas A&M. The Ravens knocked this pick out of the park.
Round 3 Pick #92: Devin Duvernay, WR, Texas
With their second 3rd round selection the Ravens selected receiver Devin Duvernay. Filling a big need in a lackluster wide receiver corps, Duvernay is everything you want in a pass catcher. Standing around 5'11, he offers great strength and physicality for a player his size, and also has game-breaking speed. His route running may need improvement, but he can create separation with his speed and has a huge catch radius. The pairing of Duvernay with Hollywood Brown in the receiving corps brings only more speed to this dangerous Ravens offense.
Round 3 Pick 98: Malik Harrison, LB, Ohio State
The Ravens take another Buckeye in linebacker Malik Harrison with their third 3rd round selection. With the day one selection of Patrick Queen, the Ravens take a great complimentary linebacker in Harrison. The Ravens linebacker unit wasn't particularly strong last season. Baltimore made sure to strengthen that in this draft, taking their second LB in their first five selections. While Harrison is not the best in man to man coverage, he can drop into a zone when needed to. In addition, Harrison is a sure-fire tackling machine on defense that offers a great ability to stop the run. Baltimore made sure to strengthen their run-stopping ability in this draft, as they selected another player who can contribute immediately.
Round 3 Pick #106: Tyre Phillips, OL, Mississippi State
At the conclusion of day two Baltimore decided to address the offensive line. They selected Tyre Phillips, a prospect that offers versatility with great strength and power. On film he offers tons of help in run blocking and has good use of hands. While he is not the most athletic or mobile, Phillips is a tenacious run blocker. This is still a good pick as Eric DeCosta and Coach John Harbaugh appear to have selected a "my guy" to help aid their run-fist offense.
Round 4 Pick #143: Ben Bredeson, OG, Michigan
The first pick of day three carried the same attitude as the Ravens' last pick on day two. Ben Bredeson was picked to help sure up the interior offensive line. What he lacks in mobility and athleticism he makes up for with tremendous power behind his punches. He can and will produce big-time blocks for players running behind him. Some Ravens fans would have liked to see the selection of Bradlee Anae for some pass rush instead. Ultimately the Ravens stick to the same theme from the end of day two by helping the run game get even better.
Round 5 Pick #170: Broderick Washington Jr., IDL, Texas Tech
With their lone fifth-round selection, Baltimore continued to beef up their defensive line with the selection of Broderick Washington Jr. He is a big player, who offers the big-time run-stopping ability. Coming out of his redshirt senior year at Texas Tech, he tallied 5.5 tackles for loss and 2.5 sacks. Broderick is somewhat lacking in pass rush, but he offers plenty of power and good leadership. Washington was named team captain on two separate occasions for the Red Raiders. This selection may not "WOW" anyone, but it is not a miss by any means as Washington could be a future replacement for Brandon Williams on the interior defensive line.
Round 6 Pick #201: James Proche, WR, SMU
Proche free feel in the draft and Baltimore quickly made a move to trade up to add him to their wide receiver corps. Proche can only make the offense better as the reigning MVP Lamar Jackson now receives another weapon to throw to. Ravens pass-catchers are virtually non-existent outside of the tight end position, so it is no surprise they moved up for Proche. Baltimore now gets a guy who isn't the fastest or most physical receiver, but one that has sure hands. Proche also showed tremendous production throughout his career at SMU. Baltimore hopes for that to continue in his NFL career where he can develop alongside fellow wide-outs Brown and Duvernay.
Round 7 Pick #219: Geno Stone, S, Iowa
Baltimore wasn't done yet as they traded up to select safety Geno Stone. Currently the Ravens have Earl Thomas, Chuck Clark, DeShon Elliott, and Anthony Levine at the position. Thomas and Levine are not getting any younger and Elliott has been having health issues, so it looks like Stone has the opportunity for snaps right away. This is more of a depth piece type of addition, but they may also get a day one contributor. Geno Stone possesses a phenomenal football IQ, fantastic ball skills, and good tackling ability. Baltimore once again adds to a formiddable defense with their final pick of the draft.
Final Draft Grade: A+
It's debatable whether or not the Bengals had a better draft in the division. The Ravens possibly hold the best draft in the AFC North, and potentially a top-three draft grade among the entire league. Baltimore appears to have made all their selections with tremendous value in mind. Picks like Patrick Queen, J.K. Dobbins, James Proche, and Geno Stone are draft steals that can contribute to a Super Bowl contending team almost immediately.